Trump's national day of patriotism vs Obama's national day of renewal: What's different?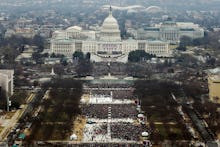 Following his inauguration on Jan. 20, President Donald Trump declared the day a National Day of Patriotic Devotion. Its purpose, according to Trump's proclamation, was "to strengthen our bonds to each other and to our country — and to renew the duties of government to the people."
Issuing such a proclamation continues a tradition that dates back to President George H.W. Bush in 1989, who declared his inauguration day a "National Day of Prayer and Thanksgiving" — a day that son George W. Bush repeated for his inauguration in 2001. 
President Bill Clinton declared his inauguration days "National Day of Fellowship and Hope" (1993) and "National Day of Hope and Renewal" (1997). Most recently, President Barack Obama's 2009 inauguration was proclaimed a "National Day of Renewal and Reconciliation," while his 2013 inauguration was a "National Day of Hope and Resolve."
In comparison to these proclamations of the past, Trump's order has taken a decidedly less humble tone.
"These proclamations trend toward humble and gracious language as new presidents struggle with the enormity of the task in front of them," University of Houston professor and presidential proclamation scholar Brandon Rottinghaus told USA Today. "There is an awestruck tone to most of these first proclamations as incoming presidents acknowledge they are fallible and burdened with a great responsibility."
On the other hand, Trump's proclamation, Rottinghaus explained, "is missing the personal humility," taking on instead a more nationalistic tone.
In comparing Trump's proclamation with the first proclamation made by Obama, his immediate predecessor, these differences — and what they represent — become all too clear.
National Day of Renewal and Reconciliation
In his 2009 proclamation, President Obama underlined the adversity facing the nation, which, at the time, was still rattled by the 2008 financial crisis and ongoing conflicts in the Middle East.
Obama wrote: 
As I take the sacred oath of the highest office in the land, I am humbled by the responsibility placed upon my shoulders, renewed by the courage and decency of the American people and fortified by my faith in an awesome God.
The proclamation, as Rottinghaus noted, strikes a decidedly humble tone. Obama acknowledges the struggle that lay ahead, and says he is "humbled by the responsibility" of being the leader taking that struggle on.
While the proclamation capitalizes on the American spirit and its ability to overcome adversity, it doesn't shy away from evoking the discord of America's history. It references the Civil War with President Abraham Lincoln's inaugural address, and emphasizes that the United States' values and democracy are privileges that are earned, not given. 
As Obama made history by becoming the first African-American president, representing the progress of a country built on the backs of slaves, his proclamation also emphasized the importance of the values he campaigned on: hope and change.
By calling on Americans to "remak[e] this Nation for our new century," Obama's proclamation pleads for the country not to cling to past values, but rather to be inspired by the past and use it as a foundation to build a new and brighter future.
National Day of Patriotic Devotion
Trump's proclamation, meanwhile, seems to represent his own campaign promise to "Make America Great Again." 
Trump's proclamation declares:
A new national pride stirs the American soul and inspires the American heart. We are one people, united by a common destiny and a shared purpose.
By emphasizing that freedom is a "birthright," Trump's proclamation immediately stands in stark contrast to Obama's, which emphatically declared that democracy was "not simply a birthright" but a "glorious burden." 
Obama and Trump both faced sharply divided nations. But unlike Obama, Trump focuses on achieving unity by relying on bedrock values of "patriotism," rather than coming together and putting in work to overcome the forthcoming challenges.
Trump's call for "patriotic devotion," many have noted, also strikes a much more authoritarian tone, particularly in comparison to Obama's humble plea to rise up and meet the challenges of democracy. The phrase has a "decidedly martial ring," the Atlantic noted, adding that the last Day of Patriotic Devotion was issued by President Woodrow Wilson in 1917 to mark the enactment of the World War One draft.
The day, novelist Robert Harris noted on Twitter, also has similarities in tone to the Day of National Awakening that was declared for Hitler's election in 1933.
More recently, the phrase "patriotic devotion" has been used by a different world leader: North Korea's Kim Jong-un. Kim, the Guardian noted, has repeatedly used the phrase in his speeches, and the phrase has also been used in North Korean propaganda.