Trump Immigration Executive Order: Here's what it means for Muslims in the US and abroad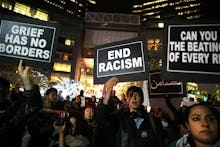 The Los Angeles Times published a draft copy of President Donald Trump's expected executive order on immigration on Wednesday.
The executive order, which is expected to be signed on Thursday or Friday, is expected to include a ban on refugees, and the suspension of visas from seven Muslim-majority countries: Iran, Iraq, Libya, Yemen, Sudan, Syria and Somalia. The Trump administration will likely place a 120-day ban on all refugees entering the country with the exception of those fleeing religious persecution. The executive order is expected to include a 30-day suspension of all immigrants and visitors whose national origins are of those seven aforementioned countries, according to the Washington Post. 
Is Trump banning Muslims from the U.S., then?
Trump's executive order is not a ban solely based on those who practice Islam. However, by specifically banning Muslim-majority countries, many of them war-torn, and providing exemptions for refugees that are religious minorities in those said countries, the Trump administration has made their efforts to prohibit Muslims from entering the country very clear. 
At a White House press briefing on Wednesday, press secretary Sean Spicer implied people from predominantly Muslim countries have a "predisposition" to be linked to terrorism.
"I think the guiding principle for the president is keeping this country safe," Spicer said. "And allowing people who are from a country that has a propensity to do us harm, to make sure we take the necessary steps to ensure that the people who come to this country, especially areas that have a predisposition — if you will — or a higher degree of concern, that we take the appropriate steps to make sure that they're coming to this country for all the right reasons."
How will Trump's executive order affect Muslim Americans?
But more than the likelihood of the ban expanding to other Muslim-majority countries, much concern should be placed on how the executive order can provide a legal framework to further erode the privacy and civil liberties of Muslims living in the U.S.
"It sets precedent for a full ban on Muslims coming to the United States and will lead to more criminalization of Muslims living in the U.S.," Linda Sarsour, executive director of the Arab American Association of New York, told Mic in a phone interview.
A "Muslim registry" might also be quickly underway. According to intel Reuters received from congressional aides and immigration experts, the executive order could command all federal agencies to work on the completion of a biometric entry-exit system, likely similar to the National Security Entry-Exit Registration System.
This could mean the federal government would implement a database to track noncitizens entering the country and exiting the country. Under NSEERS, many immigrants from Muslim-majority countries were detained and deported.
Former New York Mayor Rudy Giuliani, now serving as a cybersecurity adviser for Trump, has also proposed using electronic tagging devices to track and monitor Muslims in the United States. 
What can be done to repeal an executive order banning Muslim refugees and immigrants? 
Congress will need to propose a new law that would nullify the executive order. Trump, however, could veto the bill. Congress could then override the veto with a two-thirds majority vote in both the House and Senate. However, with a Republican-controlled Congress, the chance of an override is dismal. 
Sarsour thinks so too. "Do I believe in Congress? Absolutely not," Sarsour said, citing her frustration at the Senate Democrats' willingness to cooperate with several of Trump's controversial Cabinet nominees. 
"I don't have any hope in [Congress]," Sarsour added. "My friends are allies and the American people. We have to stand up for ourselves and not depend in the hand of others."
Many Americans are preparing to organize and resist Trump's executive order. In New York City, an emergency rally is taking place at Washington Square Park Wednesday night. Sarsour is mobilizing efforts to get Americans to call their lawmakers and demand that they challenge Trump's blatant anti-Muslim and xenophobic executive orders. 
If there is ever a silver lining in Trump's anti-Muslim rhetoric and policy proposals, it's that, after years of suffering persecution in the U.S., Americans across the country are finally standing up with them to say enough is enough.