EPA Gag Order: Why Donald Trump's media blackout is a threat to the agency's core values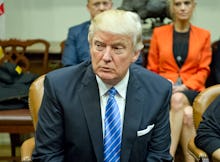 On Tuesday, President Donald Trump issued orders to the Environmental Protection Agency, prohibiting officials from posting on social media or communicating with reporters. The same day, the EPA also received instructions to scrub the climate change page from its website, which has since been mysteriously restored.
The gag order followed news that Trump had ordered the government agency to halt its grant programs, which provides funds for education, water testing and air quality monitoring.
White House press secretary Sean Spicer, however, denied the gag order had come from the White House, telling reporters the Trump administration was "looking into it." 
"I don't think it's any surprise that when there's an administration turnover that we're going to review the policies," Spicer said at a Tuesday press conference.
All of these actions — which reports from the Associated Press and other reputable sources indicate did indeed originate in the Oval Office — spell trouble for the EPA, and all Americans, really. But Trump's gag order puts the agency's officials in a particularly tight spot.
According to Mashable, the Trump administration's media blackout flies in the face of integrity policies EPA officials agreed to uphold when they accepted their positions.
The site shared the text of the EPA's integrity policy, which says that, in order to promote "scientific and ethical standards," employees must maintain "communications with the public." 
The policy adds that transparency is key to "promoting a culture of scientific integrity" and explicitly states all EPA officials are prohibited from "suppressing, altering, or otherwise impeding the timely release of scientific findings or conclusions." 
Adhering to these core principles becomes not just difficult but impossible if the president has legally bound you to silence.
If and when Trump's administration lifts the gag order, things don't look much better. The AP reported on Wednesday Trump and his advisers have required the EPA's reports "undergo review" before they're released to the public. Such a mandate would mean a group of politicians with persistent doubts about the existence of climate change will be the ones vetting the agency's findings and determining whether Americans ever get to see them.
And of course, soon enough the entire agency could be run by a man who leveled a lawsuit against it and proclaimed himself "a leading advocate against the EPA's activist agenda."
The good news is, when we're all six feet under water, none of this will matter.