Ava DuVernay and Oprah sit down for Netflix special to discuss Oscar-nominated '13th'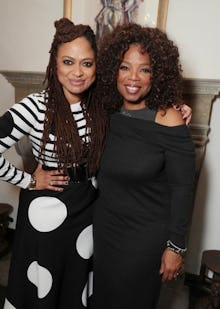 Director Ava DuVernay will sit down with Oprah Winfrey to discuss her Oscar-nominated documentary 13th in an exclusive, 30-minute interview premiering on Netflix Thursday, Jan. 26. 
DuVernay's incredible documentary is named after the 13th Amendment to the Constitution. 13th examines the United States' history of mass incarceration of African-Americans.
"I think one of the things 13th does is it allows people to be able to answer that question for themselves: 'Why should I care about those people who are incarcerated?'" Oprah says to DuVernay in a promotional clip for the interview. 
"That's the great benefit and blessing of making something like this, is to be able to talk to people about what they got from it and hope that you gave them a little something new," DuVernay says. 
13th premiered at the 2016 New York Film Festival and debuted on Netflix in October.