No, Donald Trump's "half-brother from Kenya" isn't real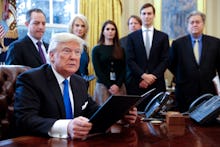 Is there a photo of President Donald Trump's secret half-brother from Kenya? No, but the photo is going viral anyway.
On Thursday, a photo featuring a man sporting Trump's signature haircut garnered attention across social media and in search engine queries. The caption claims the man is Kenyan and apparently believes himself to be Trump's sibling. It sparked the question: Does Trump have a secret sibling from Kenya? 
File that under highly implausible. 
The source of the Trump-has-a-half-brother narrative appeared to stem from the radio program The Rickey Smiley Morning Show, which circulated the unsourced photo on its Facebook page as a joke.
Maybe the internet wasn't totally sure how much of a joke it was. The image spread around Facebook, and related searches for Trump's supposed relative spiked nearly 5,000% Thursday morning, a few hours after the image was posted.
Sorry, folks. Trump's family background is well-established. He was born in Queens, New York, to Frederick and Mary Trump. He is the second youngest of five children. None are from Kenya.
Former President Barack Obama actually has a half-brother from Kenya, and he supported Trump
Obama's half-brother Malik, however, is from Kenya and also holds U.S. citizenship. The estranged brother was invited to a presidential debate by then-candidate Trump last year. "I'm excited to be at the debate," he told the New York Post. "Trump can make America great again."
It appears the relationship between Obama and his brother soured during Obama's second term. Malik was a supporter of Libyan leader Moammar Gaddafi, who was assassinated by U.S.-backed rebels in 2011. 
We did find another possible half-brother to Trump, however.