Greenpeace protesters climbed a crane and unfurled a "resist" banner near White House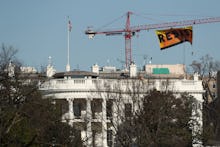 In a daring act of protest, Greenpeace demonstrators climbed a construction crane on Wednesday to unfurl a giant banner that says "resist" — right next to the new president's digs. 
According to the Associated Press, seven protestors climbed a 270-foot construction site crane "just blocks" from the White House on Wednesday. From the arm of the crane, they let down a huge yellow and orange banner with the word "resist" on it in giant black letters. 
Greenpeace said in a statement that the banner is meant to be a call-to-action "for those who want to resist Trump's attacks on environmental, social, economic, and educational justice to contribute to a better America."
In the same statement, Pearl Robinson, identified by the environmental organization as one of the people who climbed the crane to release the banner, said, "I fear not only the policies of the incoming administration, but also the people emboldened by this election to commit acts of violence and hate. Now is the time to resist." 
"We won't stand rollbacks on all the progress the people have made on women's reproductive rights, LGBTQIA rights, the heightened awareness of state-sanctioned violence on black and brown folks, and the progress we have made on access to clean and renewable energy, an issue I have personally worked on my entire adult life," Robinson continued.
The organization shared a live video on its Facebook page Wednesday morning, broadcast from atop the crane, with the hashtag #ResistOften.
The banner comes just a day after the Trump administration froze grant programs at the Environmental Protection Agency and banned EPA employees from giving updates to the press or on social media.
Washington police are reportedly at the scene, according to the AP. In a statement posted on Twitter, the department called the protesters' actions "dangerous and unlawful."