The marijuana business is apparently the hottest new industry for female executives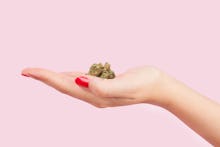 Who runs the weed world? Women.
Well, sort of. In 2015, about 36% of cannabis industry C-suite positions were held by women, compared to the national average of 22% for all U.S. companies, according to a Marijuana Business Daily report. 
The figure stands in stark contrast to the number of women in executive positions at S&P 500 companies, aka the 500 biggest U.S. firms: a mere 4.6%.
The emergence of the new and highly lucrative, multi-billion-dollar pot industry allows for pioneers to shape it as they go forward. The lack of established norms might be one reason women are able to dominate at a higher rate.
"Because the cannabis industry is so new and because it attracts people who have a more compassionate world view, people are saying, 'Lets build this from the ground up,'" Eviana Hartman, cofounder of smoking accessories company Tetra, said in a phone interview with Mic. "Women and women of color are able to be stakeholders and not just consumers."
"I feel like there is more opportunity for women because it's such a nascent industry — nobody is inheriting a business from their father, nobody's been doing this for 20 years," Jane West, founder of an eponymous legal cannabis product company, said on the phone. West also founded the the all-women collective Women Grow in 2014. 
"The energy and passion and dedication from women in this space is unlike anything I've ever seen before," she added.
"I feel like there is more opportunity for women because it's such a nascent industry — nobody is inheriting a business from their father, nobody's been doing this for 20 years."
This sense of camaraderie rather than competitiveness is something touted by Women Grow, which organizes summits and events centered on the cannabis industry. Its members argue that having more women in charge is better for the industry — all industries, really — not least because women are likely consumers of marijuana.
According to Women's Grow's introductory video, "women are more likely to have a chronic illness, they're more likely to make health care decisions for their family and they're more likely to be interested in alternative therapies." 
Entrepreneur, consultant and investor Jeanne Sullivan has been working in the cannabis industry since 2015 and previously collaborated with Women Grow.
Sullivan said that she is deeply encouraged by the large numbers of women involved in the industry — but notes that the narrative around female weed entrepreneurs can be overly positive at times. 
"It's not the easiest. Access to capital is hard for women," she said. "You think it's hard for a white woman, try being a woman of color."
While some investors and incubators have actively searched for racial or ethnic minorities, there is a dearth of women of color working in the cannabis space, Hartman agreed.
"In the context of reparations, persecution of cannabis users has disproportionately affected people of color," she said. "The same groups that oppressed others when this was illegal now stand to reap the profits. We want to make sure that doesn't happen."
Sullivan also said she hopes racial minorities join what she describes as "a movement" around legal weed: "It's more than just building a business, it involves social justice issues," she said about the industry.
So, boss ladies looking for an industry that doesn't have a glass ceiling to shatter yet: Cannabis might be a good move for you. The rumors of increased gender parity seem to be more than smoke and mirrors. 
Sign up for The Payoff — your weekly crash course on how to live your best financial life. Additionally, for all your burning money questions, check out Mic's credit, savings, career, investing and health care hubs for more information — that pays off.