Evo 2017 Lineup Vote: 'Street Fighter V,' 'Tekken 7' and others already confirmed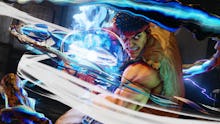 While the world of organized e-sports tries to find footing in mainstream media, the annual Evo fighing game tournament has been going strong for many years. A whole decade ago, it spawned a classic gaming moment from the Street Fighter III: Third Strike tournament.
This year's Evo tournament is in Las Vegas from July 14-16. This week, the nearly final lineup of featured games was announced, with plenty of newcomers and surprises, according to Polygon.
Evo 2017 lineup revealed, but you can still vote
Eight games have been revealed for tournament play at Evo 2017, with the ninth and final game still up for fan vote. Returning from last year's competition are Street Fighter V, Super Smash Bros. for Wii U, and Super Smash Bros. Melee. 
Even if the final, fan-voted slot goes to a returning game, most of the lineup will technically be new. This year's newcomers include Guilty Gear Xrd Revelator 2, Injustice 2, Tekken 7, The King of Fighters XIV and BlazBlue: Central Fiction.
Injustice 2 launches in May, so contenders in that tournament will only have two months to figure out which characters and strategies will work to their favor. That one should be exciting to watch.
Evo 2017 Lineup Vote: Who will get left out?
It's a bit of a curious list. Guilty Gear and Tekken are updated versions of previously featured games, which is just the reality of the fighting game business. While the two Super Smash Bros. games are significantly different on a competitive level, it seems strange to give slots to both games at the expense of a classic like Ultimate Marvel vs. Capcom 3.
Since fans are voting for just one more game, it means plenty of past contenders and fan favorites will be left out. For example, if UMvC3 wins out, games like Super Street Fighter II Turbo, Skullgirls, Pokken Tournament and Mortal Kombat XL will stay home. 
This is just one reporter's opinion, of course, but the final slot should go to Windjammers. It's only right.
More fighting game news
While you try to buy tickets to EVO 2017, read more fighting game news on Mic. Find out more about Super Smash Bros. for Switch, the Injustice 2 beta, the Tekken 7 console release date and what to expect from Marvel vs. Capcom Infinite.