Amy Adams and her long history as a guest star on your favorite TV shows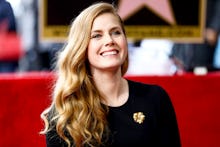 It was a shock to many this week when Amy Adams missed out on an Oscar nomination for her performance in Arrival. But her time will eventually come, as she has a handful of projects lined up, including the Enchanted sequel Disenchanted.
This isn't Adams' first foray into television. While she is primarily a movie star, it's easy to forget that before her breakout role in 2005 flick Junebug, Adams was a guest star on some of your favorite TV shows. If you take one look at her IMDB page, it's clear Adams was a TV regular. 
Let's go back to the beginning 
It started in 2000, when Adams guest starred on five TV shows that year: That '70s Show, Charmed, Zoe, Duncan Jack & Jane, Providence and Buffy the Vampire Slayer. It began with an appearance in the episode "Burning Down the House" from That '70s Show, where she played Kat Peterson, the "hot popular girl" who decides she will slum it with by dating Hyde. 
Adams then appeared in Charmed's episode "Murphy's Luck," where she played Maggie Murphy, a woman whose luck is so bad, she attempts suicide. Murphy is Prue's subject for a photo shoot until Murphy tries to take her life, but Prue saves her. She also casts a spell on Murphy to give her good luck. 
She also appeared in the Providence's "The Good Doctor" episode, where she played Rebecca "Becka" Taylor, a dancer who injures herself at an audition and refused proper care. Even early in her career, Adams went for the grittier roles. 
Adams also guest starred on Buffy the Vampire Slayer in 2000, where she played Tara's cousin Beth in the episode "Family." Beth is a traditional woman who came to Sunnydale to try and convince Tara to return home. She also played Dinah in Zoe, Duncan, Jack & Jane's 2000 episode "Tall, Dark and Duncan's Boss."
Her most memorable TV role involved eating a deer
After conquering TV in 2000, she appeared on Smallville in the episode "Craving," lending a performance that is just as memorable as any of her Oscar-nominated film roles. She starred as Jodi Melville, a woman who is unhappy with her body and goes on a drastic diet. Unfortunately, she ingests kryptonite and it causes her to begin eating animals and people. 
In 2002, Adams took a break from the supernatural for a role on The West Wing as Cathy, a woman who is part of a family from Indiana that takes part in President Jed Bartlet's campaign and hosts an event for his re-election.
Staying on TV but this time lending her voice, Adams appeared for several episodes on King of the Hill in 2004. In the same year she also appeared as Alice Doherty, a recurring character on the short-lived show Dr. Vegas, which was canceled after a handful episodes. 
All her hard work and deer eating on TV led to another memorable role on The Office in 2005 and 2006, where she played Katy in several episodes. Katy is a handbag saleswoman who catches the attention of the men in the office and eventually dated Jim, though he dumps her after realizing she could never be Pam. 
Adams' history with the Oscars may be long and complicated, but her history with TV is just as notable. She really started from the bottom and now she's here.