Bad Lip Reading tackles Trump's Inauguration Day, is only slightly less grim than the real thing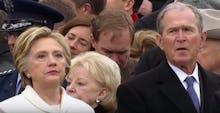 Many of us are surely curious as to what was said between President Donald Trump and former President Barack Obama at Trump's inauguration, along with the mysterious contents of Melania Trump's gift to Michelle Obama that spawned some glorious memes. 
Granted, the folks at Bad Lip Reading aren't exactly searching for answers, but it's fun as hell to imagine Melania gifting Michelle with pretzels while Obama and Trump incessantly shade one another as they pose for photos. At the very least, it's a tad less grim than the actual inauguration ceremony, in which Trump paraphrased Batman villain Bane. 
Here's some of the best faux exchanges Bad Lip Reading blessed us with: 
Michelle to George W. Bush: "Are you wearing a big boy shirt?" Bush: "Yeah, I prolly never will again." Trump to Melania, at the cringe-worthy inaugural dance: "I'm also going to need you to scrape my bunions." Melania: "Yes. Good." Trump to Pence: "Just remember who brought you here." Pence: "Thank you, my prince. Thank you." Obama to Trump, accurately: "You suuuuuuuuuuuck." Supreme Court Chief Justice John Roberts Jr. to Trump during the presidential oath of office: "Now raise your shrunken hand and repeat after me." 
They're entertaining out of context, but it's best to watch the video for yourself as a brief respite from all the awful things the Trump administration already plans to enact. 
Watch the video below: