Is Madonna being arrested? No, but a Texas FM station is banning her after her Women's March speech.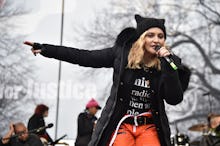 In Trump's America, one person's patriotism is another's sedition. 
Legendary singer-songwriter Madonna thought she was offering a patriotic, hopeful statement on the stage at the Women's March Saturday when she sent a message to the peaceful protest's detractors. "To our detractors that insist that this march will never add up to anything, fuck you," she said. She encouraged others enraged by a Trump presidency to "choose love" over blowing up the White House. However, in the ears of some who write her checks, the words were nearly treason.
A White House petition calling for Madonna's arrest, which has been covered by the Gateway Pundit, has tallied a whopping one signature out of the 10,000 needed for a White House response as of writing.
She's far from getting arrested, but a Texas radio station, HITS 105, has decided to ban her music "indefinitely" as a way to send the artist a message.
"Banning all Madonna songs at HITS 105 is not a matter of politics, it's a matter of patriotism," Terry Thomas, the station's general manager, said in a statement shared by Billboard. "It just feels wrong to us to be playing Madonna songs and paying her royalties when the artist has shown un-American sentiments. If all stations playing Madonna took their lead from us, that would send a powerful economic message to Madonna."
Madonna's remarks also came under fire from Trump supporter Newt Gingrich, who compared her words to the anarchist violence that marred the Inauguration Day celebrations. 
"[Madonna] is parallel to the young fascists who ran around town breaking windows, all of whom should be given the maximum sentence," Gingrich said on Fox and Friends. "What you have is an emerging left-wing fascism. She's part of it, and I think we have to be prepared to protect ourselves."
Madonna has pushed back against this interpretation of her words. She responded to her detractors in an Instagram post covered by Rolling Stone: 
"I am not a violent person, I do not promote violence and it's important people hear and understand my speech in its entirety rather than one phrase taken wildly out of context."
According to Billboard, Nielsen's consumer insights don't track HITS 105's plays, so it's unclear how much of a hit Madonna will take from the boycott. Considering the material girl was worth $520 million in 2015, according to Forbes, she likely won't feel it much at all. 
If it sets a precedent, though, the next up-and-coming pop act may have to think deeply about whether it's worth exercising their freedom of speech.