iPhone users can now send WhatsApp messages offline — here's how to do it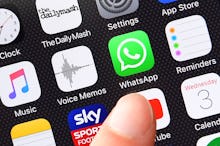 A feature available on WhatsApp for Android devices has finally arrived in the iPhone version: offline messaging. In a new update, WhatsApp introduced message queueing so users can compose written drafts while they are offline, the Independent reported.
To use the feature, iPhone owners have to download the most recent version of WhatsApp (2.17.1). Then, they simply write a message and click the "send" button. Once they're back in connection, the message will automatically send to the recipient(s). Prior to the update, the "send" button would be disabled while offline.
While new for iOS users, this feature has been available for the Android app for a little over six months now. According to Business Insider, WhatsApp, which was acquired by Facebook in 2014, has had offline messaging for Android devices since at least June, 2016.
The update comes with other upgrades, such as being able to send 30 pieces of multimedia content at once, as opposed to the previous cutoff of 10 photo or video files. Users can also utilize the "storage usage" option to free up space on their phone. To do this, go to: Settings > Data and Storage Usage > Storage Usage and then select Clear Chat.
WhatsApp has rolled out a handful of changes over the past few months. The app, which offers end-to-end encryption for its messages, launched fully encrypted video calling last November. In December, the Facebook-owned app started testing message recall — a function that allows users to recall a sent message provided it has not yet been read by the recipient.