'Injustice 2' Beta Codes: Robin gameplay showcased against Batman in new video trailer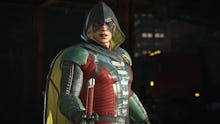 While we wait for the annual Evo fighting game tournament in July, news continues to trickle out about the lone unreleased game featured in the competition. Both fighting game and comic book fans have been paying close attention to Injustice 2, the DC Comics-based fighting game from the developers of Mortal Kombat.
This week, we found out more about one of its major characters and the early, invite-only beta.
Injustice 2 Robin Gameplay: Watch the new trailer
The Damian Wayne iteration of Batman's classic sidekick is making an appearance in Injustice 2, bringing with him a sweet blade and an assortment of gadgets into combat. In the gameplay footage, we see him face off against his mentor. That's in keeping with the game's "friends become enemies" theme we've seen in previous trailers. 
Robin's basic attacks feature his blade, but he can also utilize gadgets to get an advantage just Batman. Smoke bombs, shurikens and a nifty teleportation device can mess with his opponents in some fun-looking ways.
Injustice 2 beta codes going out
According to GameSpot, the Robin footage was part of a developer livestream this week. It was also revealed that the first codes for the game's upcoming beta went out. That means if you signed up on the official registration website and didn't get one, you'll have to wait until the next wave of codes. 
Injustice 2 developer and Mortal Kombat co-creator Ed Boon has some cheeky advice for fans trying to get into the beta, though.
More fighting game news
While you try to get into the Injustice 2 beta, read more fighting game news on Mic. Find out more about Super Smash Bros. for Switch, the Injustice 2 roster, the Tekken 7 console release date and what to expect from Marvel vs. Capcom Infinite.