Mary Tyler Moore, dead at 80, helped change who women on TV could be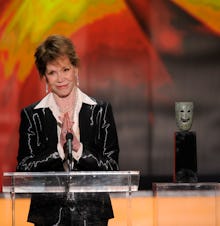 There's a reason The Mary Tyler Moore Show has some of the best opening credits in TV history. In the sitcom's first season, singer Sonny Curtis sang a version of opening theme "Love Is All Around" with more hesitant lyrics. "How will you make it on your own?/ This world is awfully big/ But girl, this time, you're on your own." He concluded on a cautious note: "You might just make it after all."
But watching titular star Mary Tyler Moore as the CBS series' protagonist, Mary Richards, there was no doubt she was going to make it. Sure, she was one of the first unmarried, career-oriented women protagonists on TV. The new and unknown always has the odds against it. 
Then, with a single triumphant hat-toss at the end of the credits, it was clear: Mary Richards — and thus Mary Tyler Moore herself — was unflappable. By season two, Curtis' song became confident: "You're gonna make it after all."
Moore died Wednesday in the company of friends and family, according to her spokesperson Mara Buxbaum. TMZ first reported her hospitalization. She struggled with her health in the past — she battled Type 1 diabetes for years and underwent surgery to remove a benign tumor in her brain in 2011. She died at age 80.
Moore was a woman who, to borrow Curtis' lyrics once again, could turn the world on with her smile. Her charm, grace, determination and gumption both on-screen and off were infectious. She and her character changed the way TV thought about women protagonists, and her influence is still felt all over network and cable programming today.
After co-starring for years on The Dick Van Dyke Show, Moore moved into a starring role in her own sitcom with some level of trepidation. She was worried about comparisons to her Dick Van Dyke Show character, Laura Petrie, and that Mary Richards wouldn't be able to stack up.
Instead, Mary stood tall, even overshadowing Laura in TV history. She was a young, single woman, recently breaking off an engagement and moving to Minneapolis to start a new phase of her career. She worked at a TV news station, first applying for a secretary job but instead landing an associate producer gig. Her boss, Lou Grant, famously told her she had "spunk" — and that wasn't a good thing.
Mary won Lou over eventually, though, as Moore won millions of Americans over too. Instead of focusing on simple sitcom plots, the show went deeper. Time noted in 2007 that the series was "a sophisticated show about grown-ups among other grown-ups, having grownup conversations."
The show's quality is a credit to many, including the strength of the ensemble cast, but Moore was the show's heart and mind. Mary Richards was a different kind of protagonist. Her work was her purpose; her closest relationship was with her female roommate, Rhoda Morgenstern, played by Valerie Harper. She was such an inspiration that, decades later, Tina Fey looked to her and The Mary Tyler Moore Show while working on 30 Rock.
To watch The Mary Tyler Moore Show was to watch something unseen on TV before 1970: a woman succeeding independent of her relationship with a man. Now, those stories are everywhere on TV, even being subverted in new ways. Crazy Ex-Girlfriend's Rebecca Bunch is a dynamite attorney with a sorry personal life — but she never loses the former while trying to repair the latter. The upcoming NBC series Great News (perhaps not coincidentally co-executive produced by Fey) centers on a woman working as a news producer.
Long after she's gone, TV watchers will have Moore to thank for changing the way the medium treats women. There's still much for networks to learn that goes far beyond what The Mary Tyler Moore Show did, of course. But that just makes us eager to find the next Moore — and the next Mary Richards — on TV.