13 dessert recipes that use vegetables as a secret — or sometimes star — ingredient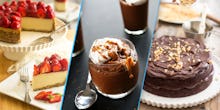 Ever thought of satisfying your sweet tooth with vegetables? It's possible! 
In her New York City vegetable-centric restaurant, Dirt Candy, chef Amanda Cohen serves vegetable-packed desserts, like a celery cheesecake roll, corn semifredo and a beloved onion chocolate tart that defies all expectations. 
Even NBA superstar LeBron James claims to like kale in his cake. While vegetable-based desserts may be a rarity and have yet to fully take off, this is a food trend you can start in your own kitchen. Add some extra vegetables to your meal with these vegetable-filled dessert recipes that feel a little healthier than a veggie-free sweet... you'll wonder why you weren't already eating vegetables in cake and ice cream!  
Zucchini-lemon cookies
Zucchini: It's not just for bread! This vegetable is versatile when it comes to baking desserts. Get the recipe here. 
Parsley cake
Not only is parsley packed with vitamins and minerals, but it also adds a beautiful green hue and a refreshing flavor to this cake you won't feel guilty for wanting second or third slices of. Get the recipe here. 
Sweet corn and black pepper ice cream
Creamed corn gets a totally new texture and purpose in this pepper-flecked homemade ice cream. Top with popcorn for an extra treat. Get the recipe here. 
Carrot cake
Perhaps the OG vegetable dessert, you can't go wrong with carrot cake. This version uses pecans for extra protein — this cake is practically a health food, maybe! Get the recipe here. 
Zucchini brownies
These whole wheat brownies are moist and chewy — you'd never guess that vegetables are what make these chocolate treats so delicious. Get the recipe here. 
Paleo zucchini chocolate cake
After a slice of this beauty, adding zucchini shreds to all your future cakes will seem obvious. Get the recipe here. 
Fudgy vegan beet cupcakes
Lovers of red velvet cake will enjoy these red-tinted, dairy-free and egg-free cupcakes made with beets! Get the recipe here. 
Zucchini carrot apple muffins
These double veggie muffins even squeeze a little fruit in each bite to triple the amount of healthy ingredients you're getting in a single muffin. Get the recipe here. 
Vegan chocolate buttercream
The trick to this rich and creamy butter-and-cream-free butter cream? Cauliflower! And avocado! No one will miss the dairy. Get the recipe here. 
Golden beet coffee cake
You can't beat this coffee cake, which uses yellow beets for its bright gold hue — what a beautiful way to start the morning! Get the recipe here. 
Secret ingredient cheesecake
You'd never guess what makes this cheese-less cheesecake so creamy, but we'll let you in on the secret: Cauliflower! Seriously. Get the recipe here. 
Dairy-free spinach ice cream
Don't knock it 'til you've tried it! Or just use this recipe to prank your friends... Get the recipe here. 
Chocolate avocado peanut butter pudding
Okay, so avocados are technically a fruit, but who's keeping tabs? This super rich, totally vegan recipe is the best use of a green fruit you've ever seen. Get the recipe here.