'Kingdom Hearts 3' Release Date Rumors: Marvel hero world might be announced soon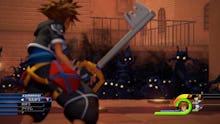 The Kingdom Hearts 3 release date is still a mystery, but we may get new details very soon. The highly-anticipated Final Fantasy and Disney crossover series is entering its third iteration — not counting the numerous side games in the series. And while we've already seen a few Kingdom Hearts 3 trailers, there's still much to learn about the game. With that in mind, there are two events coming on Jan. 26 that have sparked speculation. 
A Square Enix event or a Marvel announcement on their own is not much to bat an eye at. But combined, these tweets seem to suggest the two companies could be collaborating.
Kingdom Hearts 3 release date: Could the Avengers come to the next KH game?
The coincidence would mean much less if Marvel wasn't owned by Disney. But because it is, we could very much see Iron Man, Captain America and the other Avengers make their way to Kingdom Hearts 3 game. Neither company's announcement said much in advance of their respective Jan. 26 events, but that hasn't stopped the internet from getting excited.
This wouldn't be the first time Kingdom Hearts has added additional Disney-themed worlds to its game. Worlds like Tron and Pirates of the Caribbean have appeared in Kingdom Hearts sequel games, meaning Square Enix isn't above adding in new Disney properties. And the Marvel universe grows more with each movie release. Along with the numerous Avengers, there are added heroes like the Guardians of the Galaxy and even villains like Thanos. Should Square Enix and Marvel decide to go that route, there's a lot the two could add to Kingdom Hearts 3.
It remains to be seen what Marvel and Square Enix will reveal come Jan. 26. Stay tuned!
Check out more Kingdom Hearts news
Read more about what game director Tetsuya Nomura has to say about Kingdom Hearts 3, what to expect from Kingdom Hearts 2.8 and overall info about KH3. Or find out where to snag a Kingdom Hearts themed clock, if you're into that sort of thing.