Why is Donald Trump's White House investigating voter fraud in an election he won?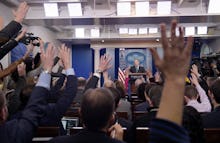 The press pushed back Wednesday at President Donald Trump's vow to order an investigation in what he said was pervasive voter fraud in the election he just won. 
"This is about the integrity of our voting system," White House press secretary Sean Spicer said at the daily briefing, emphasizing that problems like double registrations might not be limited to the 2016 vote alone.
There has been no evidence to suggest pervasive voter fraud tainted the outcome of the presidential election.
Spicer noted that Trump defeated Democrat Hillary Clinton by securing the majority vote of the Electoral College, not winning the popular vote. 
Trump's election lawyers, in an attempt to beat back recount efforts, argued in 2016 court battles that there had been no evidence of wrongdoing in certain states. But that didn't mean there weren't misdeeds going on in other locations, according to Spicer.
"There's a lot of states that we didn't compete in where that's not necessarily the case," Spicer said, suggesting some states without hot contests had significant voter fraud. 
"I don't want to start throwing out numbers, but there's a lot of people that are dead that are on rolls, that are on the rolls in two different states, sometimes three different states," he said.
Asked if, by demanding a voter fraud investigation, Trump wasn't questioning the very legitimacy of his own win, Spicer responded: 
Look, voting is the most sacred right that we have as Americans. It's the hallmark and the foundation of our democracy. And to ensure we know that every person's counts equally as the next citizen is probably the greatest thing we can do. I think taking the necessary steps to study and to track what we can do to both understand the scope of the problem and then stop the problem going forward is clearly in our best interest.
Notably, one of Trump's top advisers, White House counselor and former Breitbart chief Steve Bannon, reportedly registered to vote in both New York City and in Florida.