Sanctuary city mayors defiant as Donald Trump signs executive order to punish them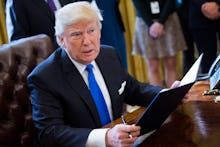 President Donald Trump on Wednesday signed a handful of executive orders on immigration, including one that would cut funding to so-called "sanctuary cities" which ban local police forces from aiding federal authorities in deporting undocumented immigrants.
In the order, Trump threatens to pull federal funding from sanctuary cities. 
However, mayors of sanctuary cities are already defiant, saying Trump's executive order was vague and was not compelling them to abandon their sanctuary city status.
"Given that today's EO was simply a directive and did not even make clear if there were any significant funding streams that the Trump administration could cut off to Philadelphia, we have no plans to change our immigration policy at this time," Lauren Hitt, a spokeswoman for Philadelphia Mayor Jim Kenney, said in a statement to Philly.com.
Steven Fulop, mayor of Jersey City, NJ, vowed that his city will "stand by our values."
"We're a city of immigrants + we're unwilling 2 break families/harm ppl," Fulop tweeted Wednesday.
While Trump has long pledged to cut funding to sanctuary cities, that effort could stand only to stymie Trump's pledge to help rid inner cities of what he describes as "carnage."
Trump has knocked Chicago for its crime rate, saying Tuesday night that he was going to "send in the Feds!" to help "fix" the murder problem, which White House Press Secretary Sean Spicer described Wednesday as an offer to expand federal resources to the city.
Chicago, however, is a sanctuary city. 
And if Trump followed through on pulling funding from sanctuary cities, it's unclear how he would square his sanctuary city funding ban with his pledge to provide federal assistance to make the city safer.
Other sanctuary cities that could lose funding include New York City, where Trump's wife and son, Melania and Barron, are living for the remainder of the school year.