Oprah's reaction to Mary Tyler Moore surprising her will warm your heart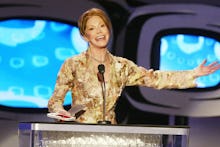 Mary Tyler Moore, who died at 80 Wednesday, served as an inspiration to multiple people in the industry growing up. Watching her Mary Tyler Moore Show character, Mary Richards, succeed as an associate TV news producer inspired women like Tina Fey and, significantly, Oprah Winfrey, who dedicated multiple segments on The Oprah Winfrey Show to Moore.
So in 1997, when Winfrey mentioned Moore as one of her favorite celebrity women, Moore and The Oprah Winfrey Show producers decided to surprise the host with a visit. Oprah's reaction was priceless.
After Winfrey recovered from her initial shock and what she described years later as an "ugly cry," Moore paid tribute to her in kind.
"What you do on this show, with such intelligence and grace and sensitivity, what you do for literacy, I am in awe of you," the actress said.
Watch Winfrey recall her reaction to the surprise below.