Mary Tyler Moore quotes: 5 funny and inspirational lines from the 'Mary Tyler Moore Show' star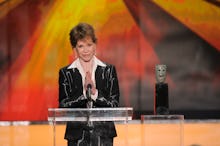 Mary Tyler Moore, the star of the eponymous hit sitcom that helped changed how women could be portrayed on television, died Wednesday at the age 80. The actress' work — particularly, on The Mary Tyler Moore Show — has, as Mic's Kevin O'Keeffe pointed out in his obituary, paved the way for female characters leading independent lives without men. 
Her body of work was recognized with a Lifetime Achievement award in 2012 from the Screen Actors Guild, and Moore's imprint on the industry will long be remembered after her death. 
Here are five quotes from Moore that exemplify her humor and humanity. 
On changing her name from Mary Moore to Mary Tyler Moore 
"I was Mary Tyler Moore," she said during her SAG Lifetime Achievement acceptance speech, noting there were already six Mary Moore's when she registered with SAG. "I spoke it out loud. Mary Tyler Moore. It sounded right so I wrote it down on the form, and it looked right. It was right. SAG was happy, my father was happy, and tonight, after having the privilege of working in this business among the most creative and talented people imaginable, I too am happy, after all." 
On landing a career in Hollywood
"My grandfather once said, having watched me one entire afternoon, prancing and leaping and cavorting, 'This child will either end up on stage or in jail,'" she said, per the Archive of American Television. "Fortunately, I took the easy route." 
On how to live life 
"Take chances, make mistakes," she said. "That's how you grow. Pain nourishes your courage. You have to fail in order to practice being brave." 
When surprising Oprah Winfrey
"You are, truly, with what you do on this show with such intelligence and grace and sensitivity, what you do for illiteracy, I am in awe of you," she tells an awestruck Oprah, who burst into tears, on The Oprah Winfrey Show.  
On how she'd like to be remembered in film and television
"As somebody who always looked for the truth, even if it wasn't funny," she said.