'Pokémon Go' Nest Migration 12: How to prepare for spawn location changes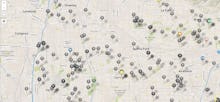 You'd better hit the Global Nest Atlas and enjoy one more day of hunting verified Pokémon nests where specific species of reliably spawn. The 12th Pokémon Go nest migration is expected to arrive on Wednesday night, according to trusted Pokémon Go resource The Silph Road.
That's right: The next Pokémon Go nest migration is right around the corner, which means every verified Pokémon nest is about to go away and the next nest-mapping effort is about to begin.
Pokémon Go nest migration 12: Spawn location data is at its highest quality before a reset
In terms of getting ready for nest migration changes, there's not much you can really do. However, you may want to stock up on supplies if you intend to go out on a nest hunt the day the migration hits and help scout out new nests.
Tracking Pokémon Go nest migrations isn't just about hunting nests, anyway. It can also be about knowing when to take advantage of the information gathered since the previous nest migration.
The Global Nest Atlas is one of the best tools available for Pokémon Go players to track nest locations. The Atlas is crowdsourced and asks users to verify reported nests, so the further away you get from a nest migration the higher the chances that new Nest Atlas data has been verified.
In other words, today is the best day to take advantage of the Global Nest Atlas because it's the last day before a new migration takes place, at least until the next Pokémon Go nest migration is about to hit in another couple of weeks.
More Pokémon Go guides, tips, tricks and updates
Check out Mic's Pokémon Go tips and tricks. Here are guides on how to get stardust, how to determine how long it will take you to reach level 40, the kind of Pokemon you get from 10km eggs, how to create new PokéStops, how to maximize your chances of catching Pokémon and how PokéStops distribute Pokémon eggs. Also check out how to catch Gen 2 baby Pokémon, our analysis of post-balance update Chansey and Rhydon and everything you need to know about finding the long-awaited Pokémon Ditto.