3 ways border control will change under Trump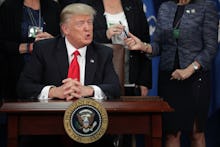 During his election campaign, President Donald Trump focused a lot of his energy on immigration. While he's announced that he is moving forward with his promise to build a wall along the U.S.-Mexican border, there are other changes afoot for how the United States approaches illegal immigration. One thing that is for sure is that the way the homeland security system operates is changing.
Here are three of the key changes now that Trump is in charge of the executive branch:
A crackdown on refugees
The big news from Friday was that Trump signed an executive order temporarily banning all refugees , along with visa holders from seven Muslim-majority countries from entering the United States, as well as indefinitely banning refugees from war-torn Syria. Though the temporary ban will be reviewed after 120 days, it is clear that Trump is planning on drastically reducing the number of refugees that enter the United States, with the Pew Research Center estimating that the total number could be cut in half for 2017.
More immigration and border officials
In a second executive order Friday, the president called for thousands of additional border patrol agents and immigration officers, in keeping with Trump's campaign promises to increase border security during his presidency.
A new policy for detainees
As of right now, undocumented immigrants who are caught by authorities are often released pending hearings — a policy sometimes called "catch and release." Trump has said he wants to end that practice, though it won't be as simple as he may like.