Alicia Keys samples Kanye West's "Low Lights" in new song to celebrate her own birthday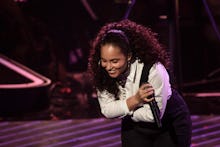 When you have a voice as heavenly and as painstakingly trained as Alicia Keys', it's just not going to be that satisfying to hear "Happy Birthday" coming out of most people's mouths. Keys' has the solution: Write and sing your own birthday praise song.
Wednesday, Jan. 25, on Alicia Keys' 36th birthday, the artist shared a video for a new track titled "That's What's Up," essentially saying happy birthday to herself and thanking the lord for the many gifts she's enjoyed in life. 
To set the auditory scene, the song samples Kanye West's "Low Lights." It establishes the blessed and grateful mood that Keys' song and video play out, as Keys gets in the tub with a cup of wine and plate of fruit to live her best life. 
After raising over $2 million for AIDS research at her KCA Black Ball in October and releasing her most honest and personal work to date, Here, in November, she has a lot to celebrate. Happy birthday, Queen Keys.