'Zelda: Breath of the Wild' Release Date News: Full voice acting confirmed for every cutscene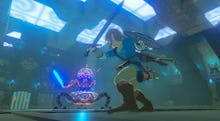 The Legend of Zelda: Breath of the Wild release date is finally confirmed for March 3 and recently we've received yet another confirmation. The Zelda games are notorious for making gamers read every word of speech text if they want to catch the conversation. The full extent of most Legend of Zelda games voice acting offering typically doesn't extend beyond the sounds of village people and the occasional Navi "hey." Breath of the Wild will finally give its characters a literal voice.
Legend of Zelda: Breath of the Wild cutscenes will have full voice acting
It only took until 2017, but Nintendo is finally giving fans a Zelda game their ears will enjoy. In an interview with Gamekult, Zelda producer Eiji Aonuma confirmed the news. Here's the quote, translated from French using Google Translate: 
Until now, we did not duplicate the other characters because Link never talks and it seemed odd that everybody speaks vocally except him. But since Breath of the Wild contains a large number of cut-scenes, we decided to use the voice actors for all sequences. 
The result is characters that we'll finally be able to hear, such as Princess Zelda. This can be seen in the latest Zelda: Breath of the Wild trailer that, honestly, we can't stop watching. Here it is again.
Legend of Zelda: Breath of the Wild release date: Will we finally find out what Link's voice sounds like?
From the interview provided by Gamekult, it's unclear if gamers will finally hear what Link's speaking voice sounds like. We unfortunately don't hear much of the Hylian hero in the Zelda: Breath of the Wild trailer but there is a chance Nintendo could be saving his voice as a reveal for those who play the game. We'll learn more following the game's March 3 release date.
More Zelda news and rumors
Hungry for more Zelda news? Check out our deep dive into the various Zelda timelines, the differences between the game on Wii U and Nintendo Switch, and this beautiful HD remake of Ocarina of Time that you can actually play.