The most moving defense of sanctuary cities once came from future Trumper Rudy Giuliani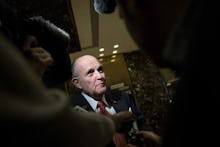 President Donald Trump's new executive order penalizing so-called "sanctuary cities" is grounded in the idea that undocumented immigrants "present a significant threat to national security and public safety."
The order, which focuses especially on immigrants with criminal backgrounds, slams cities that protect them as causing "immeasurable harm to the American people and to the very fabric of our Republic."
But some of the most detailed, passionate and lawyerly arguments in favor of offering undocumented immigrants sanctuary were made 20 or more years ago — by major Trump advocate Rudy Giuliani. 
Giuliani, then the Republican mayor of heavily Democratic New York City and a former federal prosecutor with a tough-on-crime reputation, defended the city's immigrants — even those without papers.
"New York — the greatest city in the world — was built by the hands of immigrants and it continues to be built and strengthened by immigrants," Giuliani said in his weekly radio address while discussing a city lawsuit against the federal government in defense of "Executive Order 124."
That order, first signed by then-Mayor Ed Koch and re-upped by his successors, shielded immigrants from being turned in to the authorities unless they were suspected of having committed crimes, including abusing public benefits.
Giuliani argued that there were cogent reasons to keep undocumented immigrants from being afraid to send their children to school, to seek health care to prevent spreading contagious diseases or to report crimes themselves.   
"New Yorkers know that any effort to eliminate immigration or unfairly burden immigrants could destroy the very process that is the key to New York and America's success," Giuliani said in the address, which aired on October 13, 1996.
"America became the most successful nation in history because of our constant process of reform and revitalization, a process that is driven by immigrants who come here to create a better life for themselves and for their children," he said. 
"That's why anti-immigration movements always die out," he added. "As we have in the past, I believe we will return to the recognition that new Americans are good for our country."
Giuliani ran for the Republican nomination for president in 2008, having earned the nickname of "America's Mayor" for his stewardship of New York during the 9/11 terror attacks. 
He was under consideration for a Trump cabinet post before being named cybersecurity advisor to the administration earlier this month.
The former mayor's rhetoric on undocumented immigrants sounds quite different from the language of Trump's new order, which would withhold federal funds from cities that don't enforce immigration law.
"Although Federal immigration law provides a framework for Federal-State partnerships in enforcing our immigration laws to ensure the removal of aliens who have no right to be in the United States, the Federal Government has failed to discharge this basic sovereign responsibility," Trump's order states.
"We cannot faithfully execute the immigration laws of the United States if we exempt classes or categories of removable aliens from potential enforcement."
A spokeswoman said Giuliani was traveling overseas Wednesday and couldn't be reached for comment.