No, Joss Whedon did not call Ivanka Trump a dog — but that didn't stop conservative media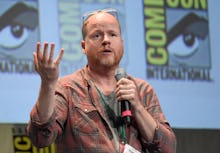 Director Joss Whedon has come under fire for a post in which he supposedly compared Republican President Donald Trump's daughter Ivanka Trump to a "Pekingese," a small variety of dog, on Tuesday.
Right-wing media quickly ran with the story, with outraged coverage on Trump-favored news site Breitbart, Fox News and conservative papers the Washington Times, Daily Mail and the Washington Free Beacon, among other more mainstream publications like the Hollywood Reporter.
The only problem? The story appears to be bunk. Whedon's post appeared not to refer to Ivanka Trump, but the big man himself. Here's the exact text of the post which Whedon sent out Tuesday morning:
"Hey, keep your eyes on this fucking prize too. He's a Voldemort in training, & unlike the Pekingese he married under, can play the long game."
It would be one thing if Whedon had posted about "the Pekingese [Kushner] married," but he didn't. He posted about the Pekingese he married "under," an apparent reference to Kushner joining the Trump clan under the auspices of its patriarch, President Donald Trump.
The reference to the "Pekingese" being unable to "play the long game" also reads like a clear shot at Trump, who is notoriously impulsive and seemingly leading his administration into chaos less than a week after his inauguration.
For reference, here is a photo of a Pekingese, which resembles a certain president's notorious hair much more than it does said president's daughter.
Mic has reached out to Joss Whedon for comment via Twitter, and will update this post if we hear back.