Mexican President Enrique Peña Nieto says he's not paying for any US border wall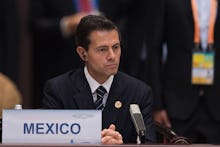 Whether President Donald Trump thinks Mexico will pay for a wall on the U.S. border or not, a firm Enrique Peña Nieto said late Wednesday that it's not happening.
The Mexican president said in a stern video message that his country doesn't "believe" in walls and will not be shelling out any part of the cost.
"Mexico does not believe in walls," Peña Nieto says unsmilingly in the clip.
"Mexico will not pay for any wall." 
Peña Nieto's comments came after Trump made good, at least in theory, on his campaign promise to erect a wall on the U.S.-Mexico border to prevent an influx of undocumented immigrants from the south.
Trump signed an executive order to that effect with much self-fanfare Wednesday, although it remains unclear how much such a wall would cost. 
The newly inaugurated president has gradually walked back some of his fiery rhetoric on the wall, going from flat-out saying Mexico would foot the bill to later explaining the U.S. would bear the initial costs and then seek reimbursement from its southern neighbor.
Peña Nieto, in an address broadcast to the nation Wednesday, said, "I regret and reject the decision of the U.S. to build the wall."
He similarly refused to agree to finance a wall when he and Trump met in Mexico City prior to the November election, later publicly accusing Trump of lying about the details of their talk.
The presidents of the two countries are scheduled to meet in the United States next week, although there was some buzz that Mexico might pull out of the engagement over the wall dispute.
In a sitdown with ABC News that aired Wednesday night, Trump brushed off Peña Nieto's previous refusals and maintained Mexico would ultimately shoulder the price of the wall, which he said could go into construction in a matter of months.
"I'm just telling you there will be a payment. It will be in a form, perhaps a complicated form — and you have to understand what I'm doing is good for the United States," Trump told ABC's David Muir. "It's also going to be good for Mexico. We want to have a very stable, very solid Mexico."