'Arrow' Season 5, Episode 11 Spoilers: Will a new Black Canary appear in "Second Chances"?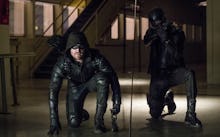 It's been a long few weeks, but finally all of our favorite Arrowverse shows have returned to The CW! Arrow's midseason premiere aired Wednesday night, and it picked up right where the fall finale left off, with Oliver coming face-to-face with none other than Laurel Lance. Most of season five, episode 10 of Arrow was character-driven, with emphasis placed on Felicity's new cynicism and Oliver's desire to "save" this Laurel. 
The midseason premiere, "Who Are You?" ended with two big teases for the next episode, at the very least. In the present, Oliver decides that it is time to find and train a new Black Canary. While it would have been cool, if a bit out of character, for Earth-2's Laurel to fill that role, a solid contender was introduced in the latter moments of the episode. 
The big reveal, though, came in the flashbacks, in the form of Talia al Ghul. This is the first appearance (on Arrow) of the more famous of Ra's al Ghul's daughters, and yet another example of Arrow borrowing from the Batman mythos. Here is your first look at Talia from Arrow's Twitter account:
Synopsis and promo
While Arrow's flashbacks are usually too sporadic to carry any real meaning, there is enough reason to look forward to them in season five, episode 11, titled "Second Chances." To see why, check out the official synopsis, published on Den of Geek!, for the episode below.
In his quest to take down Kovar, Oliver (Stephen Amell) gets help from a surprising source – Talia al Ghul (guest star Lexa Doig).  However, when she reveals what she wants from him in exchange, Oliver isn't sure he can accept her help. Felicity (Emily Bett Rickards) attempts to hack the NSA to help free Diggle (David Ramsey), but when her online efforts are flagged, she faces off against an unknown adversary. Meanwhile, Curtis (Echo Kellum) tells the team about a female vigilante, Tina Boland (guest star Juliana Harkavay), he uncovered online who has been wreaking havoc all over the country.
You can watch the promo for "Second Chances" below:
Season five, episode 11 of Arrow will air on Wednesday, Feb. 1 at 8 p.m. Eastern on The CW.
Mic has ongoing coverage of Arrow. Please follow our main Arrow hub here.