Is 'Scandal' on tonight? Where and what time to watch the season 6 premiere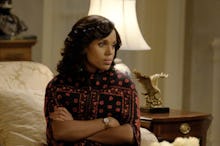 We are finally getting the return of Olivia Pope as Scandal returns to ABC on Thursday at 9 p.m. Eastern for season six. 
After a complicated fifth season finale, the season six premiere will reveal who won the election: Frankie or Mellie. According to TV Guide, tonight's results will be surprising. 
This season, Olivia will be focusing on taking back the White House after some distractions last season. With Fitz in his final moments as president, it will be interesting to see what he can get done before leaving office — or if he and Olivia will continue to just be cordial with one another.
Scandal returns for season six at 9 p.m. Eastern on Thursday on ABC.