'Sherlock' Season 5: Showrunners reveal what the detective could do if the series returns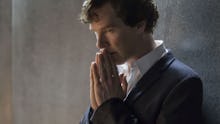 We're nearly two weeks removed from the season four finale of Sherlock, which, when you think about how sporadically the series comes out with new seasons, is barely enough time for Mrs. Hudson to prepare a cup of tea. But fans are still incessantly curious: Will Sherlock have a fifth season, and if so, what could the show explore next? 
Sherlock showrunners Steven Moffat and Mark Gatiss aren't committing to a fifth season yet — and frankly, considering how season four ends, it ought to double as a series finale — but they did reveal where the detective could go in the event that he eventually returns. 
"Our original intention of the series was to go back to the beginning and see them as younger men and … restore it to its factory settings," Gatiss, who also plays Sherlock's brother Mycroft on the show, told Radio Times. "But I think what's actually happened is that we have now done the story of how the Sherlock Homes and Doctor Watson that we have always known, how they became those men. It's actually really a backstory." 
Moffat adds that Sherlock is finally more aware of his humanity on the show — an important distinction that separates him from the more cold and calculating Mycroft. (Moffat says that Mycroft is smarter, but Sherlock's humanity makes him a stronger person.) Though as Vox's Aja Romano explained in her criticism of the series as a whole, Sherlock fails to learn from his mistakes or control his ego, which can have deadly consequences (see Mary's death in the season four premiere). 
There's also the issue of the manner in which season four ends: a brief montage of Sherlock and John solving crimes, with a voice-over of Mary lovingly referring to them as her "Baker Street boys." The final shot — a freeze-frame of Sherlock and John running out of a building — feels like a fitting ending. Interestingly, Moffat told Radio Times that they had initially planned to flash the line "The Beginning" across the screen during the final shot, but agreed it would be "too cheesy." 
A freeze-frame and a crime-solving montage is a bit cheesy in and of itself, and with Sherlock already going up against the likes of James Moriarty and his own long-lost sister (and Samara from The Ring impersonator) Eurus, it might be better if "The Final Problem" was just that. Final. 
Even if the fans don't want it that way.