What has Trump done so far since being sworn in? Here's what you need to know.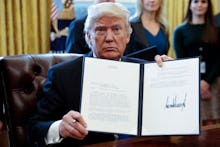 When Donald Trump was on the campaign trail, many played down his startling statements by arguing his actual policies would likely not be as repressive. But judging by his first week in the White House, those people were wrong.
In the days following his inauguration, Trump made good on promises to clamp down on immigration and ban refugees. And he's expected to nominate a new Supreme Court justice on Feb. 2.
Here are some of the policies Trump has put into place since entering office. This list begins with the most recent daily developments and works backward. 
Wednesday, Jan. 26
Trump seeks to end "sanctuary cities," demanding a weekly list of crimes committed by undocumented immigrants. 
Trump signed an executive order cutting funding to and criminalizing cities that allow undocumented immigrants to live without persecution. The "Enhancing Public Safety in the Interior of the United States" would penalize cities that prevent their law enforcement from assisting federal authorities in their efforts to deport such immigrants.
The order is at odds with established and well-documented social research, which shows immigrants are far less likely to commit crimes than native-born Americans. 
Mayors around the country were vocal in their objections to the executive order, including Philadelphia's Jim Kenney and Jersey City's Steven Fulop.
Trump calls for a "major investigation" into baseless allegations of voter fraud.
Despite assertions by his own campaign lawyers there was no evidence of voter fraud, Trump insisted fraud is why he lost the popular vote to Hillary Clinton by almost 3 million votes.
Trump also tweeted he would ask for a "major investigation" into voter fraud, and White House press secretary Sean Spicer indicated the investigation would specifically target blue states that did not vote for Trump.
Trump wasn't joking about that wall. He's getting started on it. 
Trump signed an executive order facilitating the building of a wall along the U.S.-Mexican border.
According to ABC News, "the money may come from federal funds that have been diverted from other programs."
In a previous tweet, Trump had the initiative as part of "national security."
The administration drafts a bill with major funding cuts to the United Nations and similar organizations.
A draft of a bill entitled "Auditing and Reducing U.S. Funding of International Organizations" was acquired by the New York Times. The bill seeks to cut support and funding to the United Nations and other international agencies. The U.S. would also dramatically decrease its role in the U.N.
Tuesday, Jan. 24
Trump signs an executive order in favor of continuing construction on the Dakota Access and Keystone XL pipelines. 
The DAPL and Keystone XL pipelines are back on track to be built, according to Trump's executive order. Construction of the pipelines has been fiercely opposed by environmental activists and the Native American community.
On Dec. 4, months of protest against the Dakota Access Pipeline resulted in the Army Corps of Engineers denying a permit to build the pipeline along its proposed route. They specifically objected to the pipe's crossing of Lake Oahe, a water source for the Standing Rock Sioux Tribe, whose reservation lies less than a mile away. A spillage or rupture of the pipe could devastate the area and local tribe.
Trump places a gag order on the Environmental Protection Agency. 
Trump banned all EPA officials from talking to reporters and posting on social media. The gag order was accompanied by directives to eliminate its webpage on climate change.
Trump's pick to head the EPA, Scott Pruitt, used to be a climate change denier. During his confirmation hearing, he said climate change existed — but that he wasn't convinced it was the result of "human activity." 
Trump tells U.S. car company leaders he'll rein in "out of control" environmental regulations.
Trump met with the heads of U.S. automotive giants Ford, General Motors and Chrysler to talk about creating domestic jobs. 
Trump said the purpose of the proposal was to make it easier for car companies to open factories by stripping environmental regulation. 
Monday, Jan. 23
The U.S. Department of Agriculture bans its scientists from releasing any information about their research. 
The USDA reportedly mandated that its scientists, who work in the Agricultural Research Service, were not allowed to communicate anything about their research — which, incidentally, was conducted with taxpayer money.
"Starting immediately and until further notice, ARS will not release any public-facing documents," ARS chief of staff Sharon Drumm said in an internal memo sent Monday, according to BuzzFeed. "This includes, but is not limited to, news releases, photos, fact sheets, news feeds and social media content."
Public outrage ensued and the gag order was lifted Tuesday night. 
Trump attacked the right to have an abortion around the world. 
Trump signed back into action a George W. Bush-era global gag law that denies federal funds to organizations around the world if they provide abortion services or information about abortions. 
On Twitter, Martin Belam, an editor at the Guardian, pointed out something troubling about a photo of the law's signing: No women were present.
"As long as you live, you'll never see a photograph of seven women signing legislation about what men can do with their reproductive organs," Belam wrote. It was retweeted by more than a quarter million people and liked by over 330,000. 
Sen. Kamala Harris (D-Calif.), also pointed out the photo's distinct lack of women.
"This photograph is what patriarchy looks like — a system of society or government in which men hold the power and women are largely excluded," Rhiannon Lucy Cosslett, a feminist activist and writer, wrote in the Guardian. 
Friday, Jan. 20 
Trumps signs a waiver overriding a law preventing defense secretaries from serving if they retired from the military less than seven years ago. 
Trump broke with convention by signing a waiver allowing Gen. James Mattis to serve as secretary of defense, despite a law requiring anyone fulfilling that role to have been retired from the military for at least seven years. Mattis left the Marines in 2013. 
Sen. Kirsten Gillibrand (D-N.Y.), was the only one to vote against confirming him in the Senate's 98-1 vote. 
As one of his first acts as president, Trump signed an executive order to dismantle the Affordable Care Act.
After he was sworn in on Friday, one of Trump's first actions as president was to sign two executive orders suppressing the ACA. The orders involved "freezing regulations" and "eas[ing] the burden" of former President Barack Obama's health care policy.
The administration has repeatedly said repealing Obama's signature piece of legislation is a priority, but what will replace the ACA remains unclear.