Who was Bessie Coleman? The #BlackGirlMagic of the first black female pilot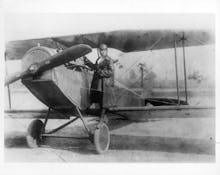 When Bessie Coleman took flight in 1921 she didn't just break the glass ceiling — she soared tens of thousands of feet above it.
At the time, Coleman was the first black woman in the United States to earn a pilot's license. And as she ascended into the sky that day, all of the people who doubted her, who discriminated against her for her race and gender, would become smaller and smaller until they disappeared out of sight completely.
"The air is the only place free from prejudices," Coleman once said.
On Thursday, Google commemorated Coleman's 125th birthday with a doodle showing her plane doing loops and turns to spell the search engine's name.
According to Google's page on Coleman's life, she grew up in a family of 13 children in Texas, where she walked miles every day to a segregated one-room school. In her 20s, she moved to Chicago where she worked to save up the money that eventually financed her education at a Parisian aviation school — no American school would accept her because of her identity.
Coleman pursued a career as a stunt pilot, earning the nickname "Queen Bessie" for her daring tricks that would draw crowds in the thousands. 
Yes — there was a Queen B before Beyoncé. 
PBS reports Coleman used her newfound spotlight to speak out against racism, refusing to perform at any locations that didn't admit black people and encouraging other African-Americans to train to be pilots.
The aviary pioneer took her last flight in 1926, a practice flight in preparation for an air show she was to put on the next day. Things started to go wrong at about 3,500 feet, when an "unsecured wrench" lodged itself in the plane's control gears, causing Coleman to plummet to her death.
To honor Coleman, black pilots would annually fly over her gravesite in Chicago and, decades later, a group of black female pilots created an organization in her name. 
According to PBS, a Dallas Express editorial at the time of her death read, "There is reason to believe that the general public did not completely sense the size of her contribution to the achievements of the race as such." 
But now we can see Coleman's accomplishments for what they are, and we even have a succinct way to describe them: Black girl magic.