New England Patriots Super Bowl Roster 2017: Player injuries and who could sit out the big game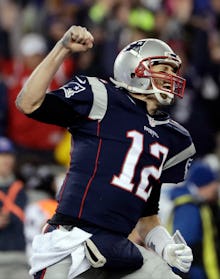 We are less than two weeks away from America's greatest sporting event: the Super Bowl. The New England Patriots, led by the ageless Tom Brady, will take on the Atlanta Falcons, led by quarterback Matt Ryan, who is the frontrunner to be named this season's MVP, according to Odds Shark. The Falcons will be playing in the Super Bowl for just the second time; they previously lost to John Elway and the Denver Broncos in 1999. 
The story is much different for the Patriots, who will be making their ninth Super Bowl appearance, and seventh with Brady as their quarterback. The Patriots are looking for their fifth Super Bowl win, which would give Brady a record five Super Bowl titles.
Before the big game at 6:30 p.m. on Sunday, Feb. 5 on Fox, let's take a look at the New England Patriots' roster, including their injuries. 
Key offensive players
Tom Brady, quarterback
As previously mentioned, Brady will be playing in his seventh Super Bowl, and is looking to become the most winning quarterback in NFL history. Despite being suspended for the first four games of the season, Brady still put up absurd numbers, including 28 touchdowns, only two interceptions and a 112.2 quarterback rating.
LaGarrette Blount, running back
While the Patriots are not normally considered a running team, they have been able to move pile after pile with their running back. LaGarrette Blount rushed for over 1,000 yards this season and 18 touchdowns. While he has not been quite as effective in the playoffs, Blount scored a touchdown in the Patriots' victory over the Steelers in the AFC championship game.
Julian Edelman, wide receiver
Brady's go-to target in the Super Bowl will be Julian Edelman, the 5-foot-10 wide receiver. Edelman continues to be one of the most valuable receivers in the NFL. This season he caught 98 passes for 1,106 yards and three touchdowns. Expect Edelman to get a lot of work against the Falcons. 
Martellus Bennett, tight end
With Rob Gronkowski on injured reserve, Martellus Bennett will continue to be the Patriots' feature tight end. In his first season as a Patriot, Bennett had a solid, though unremarkable, year. Bennett caught 55 passes for 701 yards and seven touchdowns in the regular season.
Offensive line
The players who will be protecting Brady in the Super Bowl are the following: Nate Solder will start at left tackle; Joe Thuney will stand beside him at left guard; David Andrews will be snapping the ball from center; and Shaq Mason and Marcus Cannon round out the offensive line at right guard and right tackle, respectively. 
Key offensive injuries
The New England Patriots' injury report lists several players, though it is uncertain whether any of them will miss the Super Bowl. On the offensive side, Martellus Bennett, Chris Hogan, Brandon Bolden and Danny Amendola all left Wednesday's practice due to injury. Gronkowski remains on injured reserve. 
Key defensive players
Defensive line
The players who will potentially be causing trouble for Ryan at the line include Chris Long at left defensive end, Alan Branch and Malcolm Brown at defensive tackle and Trey Flowers at right defensive end. The four defensive linemen combined for 15.5 sacks this season. 
Linebackers 
The New England Patriots' starting linebackers, who will be counted on to clog up the middle of the field, are Shea McClellin, Rob Ninkovich and Dont'a Hightower — more on Hightower below.
Defensive backs
The players who will have to do their best to slow down Ryan and Julio Jones are the Patriots' defensive backs. They include Logan Ryan and Malcolm Butler at cornerback and Patrick Chung and Devin McCourty at safety. Eric Rowe and Justin Coleman will likely get plenty of work at corner as well.
Key defensive injuries
The only defensive player of note on the Patriots' injury report is Hightower, who left Wednesday's practice with a shoulder injury. It is unclear whether the injury will impact his availability come game time. 
Special teams
Stephen Gostkowski, kicker
The Patriots' will rely on Stephen Gostkowski to kick the ball through the uprights. In the AFC championship game, Gostkowski set an all-time record with his 67th successful postseason extra point. While it is difficult to believe that the Super Bowl will be a low-scoring defensive matchup, should it be, Gostkowski could make or break the game.  
Mic has ongoing coverage of the Super Bowl. Please follow our main Super Bowl hub here.