'Pokémon Go' Nest Migration 12: How to track spawn locations on the Silph Road Nest Atlas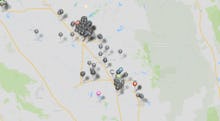 It's time to get ready for some serious Pokémon hunting. Again. The 12th Pokémon Go nest migration is here.
The Silph Road confirmed the latest Pokémon Go nest migration. That means all the previous nest data that had been scouted out and verified in the Global Nest Atlas is no longer relevant thanks to Niantic's bi-weekly habit of switching up Pokémon spawns in the game. Now it's time to find the new ones.
Pokémon Go nest migrations take teamwork to track
Pokémon Go itself does a terrible job of showing you where the Pokémon are hiding. The Nearby feature helps pinpoint a particular PokéStop where a creature may be hiding out, but when it comes to things like nests the app is pretty much useless.
As usual, the Pokémon Go community pulled together to fill the information gap, in this case with the Global Nest Atlas. If you've been tracking Pokémon Go migrations then you already know about the Atlas. It's the best tool on the web for reporting and verifying nest spawns.
Don't forget that you have to register with the Silph Road if you want to contribute to the Nest Atlas. Click the "Join the Road" link in the upper-left-hand corner of the Global Nest Atlas to register. Then, make sure you're investigating and confirming spawns as often as making your own, original reports. The more people take the time to verify reports, the more reliable the information is and the more helpful the Nest Atlas may be for you.
More Pokémon Go guides, tips, tricks and updates
Check out Mic's Pokémon Go tips and tricks. Here are guides on how to get stardust, how to determine how long it will take you to reach level 40, the kind of Pokémon you get from 10km eggs, how to create new PokéStops, how to maximize your chances of catching Pokémon and how PokéStops distribute Pokémon eggs. Also check out how to catch Gen 2 baby Pokémon, our analysis of post-balance update Chansey and Rhydon and everything you need to know about finding the long-awaited Pokémon Ditto.