Ronda Rousey donates food and supplies to Dakota Access pipeline protesters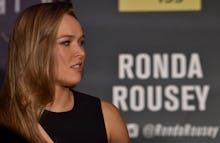 It looks like Ultimate Fighting Championship fighter Ronda Rousey is taking the fight outside the cage with a much bigger opponent: the Dakota Access pipeline.
Rousey, the former UFC bantamweight champion, headed up to North Dakota to join Native American activists and their allies, and brought food and supplies for shelter. A photo of Rousey at the encampment surfaced on Twitter on Tuesday.
Linda Black Elk, an indigenous activist, told TMZ on Wednesday that some of the items she brought with her were fresh bread, cheese, fruits vegetables, tents, firewood and woodstoves.
"When you're in camp, it's very difficult to access fresh food, like fresh fruits and vegetables, especially when you're on the frozen prairies of the northern Great Plains," Black Elk told TMZ. "It's very difficult to access those things and she brought a ton of fruits and vegetables, fresh bread, fresh cheese." 
Black Elk said Rousey was humble and acted from the bottom of her heart. She also said her donation has been a tremendous help in support and allyship for them to keep fighting against the construction of the Dakota Access pipeline.
"She's an incredible person and just so humble. She wasn't asking for any publicity and when I talked to her about that, she basically said that she felt like a disappointment. She just felt that everyone was really upset with her. I couldn't believe I was doing it, but it was very important for me to let her know just how important she is to the native community in particular."
"That's what keeps us going, that kind of support and just the morale booster it was," Black Elk said. "That's what keeps us going. It means everything to us."
In September, former President Barack Obama halted construction on the Dakota Access pipeline. On Dec. 4, the Army Corps of Engineers denied Energy Transfer Partners' permit to continue construction of the 1,172 mile-long pipeline along the proposed route after massive protests in the Standing Rock Indian Reservation. 
President Donald Trump signed two executive orders on Tuesday to expedite the review of not only the Dakota Access pipeline, but the Keystone XL pipeline as well. The Interior Department, Army Corps of Engineers and, for the Keystone XL pipeline, the State Department, would conduct the reviews. The executive orders provide a stepping stone to proceed with construction on these pipelines.
Now, Rousey wants to join #NoDAPL activists again to help the fight to protect their water supply and sacred indigenous lands. 
"She actually told me that she would come back and stand right on the front lines and get pepper sprayed alongside everyone else," Black Elk said.