How to get loot boxes in 'Overwatch' fast during the Year of the Rooster event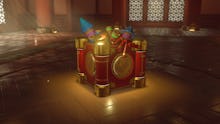 The Overwatch Year of the Rooster event is upon us, which means you only have a limited time to earn all of the special skins and other cosmetic items before the Chinese New Year celebration ends on Feb. 13.
During the course of the Year of the Rooster, you can purchase individual items if you want — albeit, at a much higher price than normal items — but the best, cheapest way to earn those special items is through loot boxes. 
Unfortunately, there's not really a game-breaking secret you can use to earn a ton of loot boxes really quickly, but there are some strategies to help get the most out of your time. Let's break it down.
How to get loot boxes in Overwatch as quickly as possible
As you surely know by now, you'll earn a loot box every time you level up, so the best strategy to earn a lot of loot boxes is simply to play a lot of Overwatch.
However, you'll earn a 20% experience point bonus if you're in a group with other players, so playing with friends theoretically means you'll be leveling up 20% more quickly. If nobody from your friends list is online, try using the "Stay as Team" function at the end of a match to formally group up with the other solo-queue players you matched up with.
Another good way to get some extra loot boxes is to take advantage of the Arcade mode, where all the strange, weird game modes are housed. For every three wins in an Arcade mode, you'll earn an extra loot box, up to a maximum of three extra loot boxes per week. 
If you're not sure how many extra loot boxes you've earned that week, there's an indicator in the upper-right corner of the screen in the Arcade mode that shows your progression.
The weekly limit on loot boxes from the Arcade mode resets at the same time every week, so pay attention to the countdown clock and earn those loot boxes before it resets.
You'll also earn a bonus loot box for your first win in several of the Arcade modes — including the seasonal Capture the Rooster mode — so it's worth checking out if you haven't yet.
And, if you get desperate, you can always buy some loot boxes. Here's the full price breakdown:
2 loot boxes — $1.99
For more on Overwatch, check out the rest of what Mic has to offer. Here is the latest developer update where Overwatch director Jeff Kaplan explains the new Capture the Rooster mode, the full patch notes for Overwatch version 2.03, a full explanation of the different types of health in Overwatch, the latest rumor of a Terry Crews-voiced Overwatch character, our definitive ranking of every Overwatch hero, a roundup of awesome gender-bent Overwatch cosplay and a giant Overwatch FAQ for beginners.