Melania Trump's inaugural ball gown designer, Hervé Pierre, speaks out: "I'm not doing politics"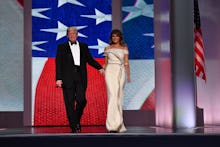 When Melania Trump arrived at her first inaugural ball on Friday, all the attention was on that off-the-shoulder cream gown, with the red ribbon cinched around the waist.
As everyone took it in, one question remained: Who could the designer be? With an affection for more established designers, maybe it was Gucci, which she'd famously worn on the campaign trail, or perhaps Ralph Lauren, another Trump favorite, as many had speculated.
But no, it was lesser known French designer Hervé Pierre. Not only that, but Trump reportedly helped design the gown as well. 
Now, six days after the gown made its debut, Pierre is finally opening up in an interview with Harper's Bazaar about the gown, and the design process with Trump. 
According to Pierre, Trump initially approached him as a stylist but when she saw his own designs, she decided to get the little-known designer to design her gown, with her help. 
"She knows fashion — she was a model and has worked in a design studio — so she knows about construction," Pierre said. "When I brought her fabric swatches, she immediately picked the heaviest, most beautiful six-ply silk from Italy. She knows about fabrics. It was a very organic conversation because we have the same vocabulary."
Trump also, apparently, had a strong idea of what she wanted, not wanting to look back at other first ladies for inspiration (like she did on Inauguration Day, recalling Jackie Kennedy for the swearing-in). 
"She was very specific about the neckline, about all the lines being parallel," Pierre said. "It was important for us not to follow any recipe for a 'first lady gown.'"
"I also didn't want to refer to the past, to any period," Pierre added. "I believe it was something modern, which was not done before — thank God. The lines are as sleek as a paper cut; the curves of the skirt are fluid, yet the overall shape is sharp and intense. For me it reflects her personality."
These tidbits definitely reinforce the theory that Trump could be planning some sort of design venture herself, but who's to say. 
Also in the interview, Pierre remarks on the weeks leading up to the inauguration, when designers from around the world voiced their displeasure at the idea of dressing Melania Trump during her time as first lady. 
"I don't think it's right," Naeem Khan, who dressed Michelle Obama multiple times, told the Associated Press. "She's not necessarily my image," Tom Ford said on the View. "I have no interest whatsoever," Marc Jacobs told Women's Wear Daily. 
But for Pierre, he doesn't see dressing Trump as a political statement at all. 
"I'm not doing politics, I'm doing dresses," Pierre said. "We are not suddenly brokering a big deal between China and Russia. If people don't want to dress her, I think it's sad, but I was honored. I don't criticize these people — it's their choice, and that's the beauty of democracy."
And according to Pierre, this is probably not the last collaboration between the two, telling Bazaar that Trump recently called on him once again to meet. So perhaps this is the beginning of a very beautiful design friendship.