Virginia mom says teacher forced son to act like a slave for a history lesson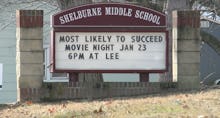 One Virginia educator's method of teaching her class about slavery is raising some eyebrows. 
Tamika Derozen, whose son is a sixth-grader at Shelburne Middle School in Stauton, Virginia, told WHSV that her son's teacher asked black students to act as slaves during a lesson about the Louisiana Purchase. The teacher apparently asked the students to pick cotton and dig for coal. Some of the students refused. 
"He said, 'Mom, I didn't know what to do,'" Derozen said to WHSV. "I wanted to walk out of the class, but I didn't want to get in trouble."
But the black students weren't the only ones who were asked to play pretend. The teacher then allegedly asked white students to join and play noblemen. 
"Why wouldn't she of asked for volunteers or why would she not have included any student of any race to just go up in front of the class and play pretend," Derozen said.
Derozen said she contacted the school and that the principal apologized. However, that wasn't the end of the ordeal. According to Derozen's son, on Monday, the teacher responded to the complaint directly to her students. When Derozen's son walked into class, the teacher put an image from the miniseries Roots on the projector. She then allegedly asked students whether it made sense for a white actor to play a slave. 
"She still wanted to make herself right," Derozen said. "You can't right your wrong."
Though she had originally planned to meet with the teacher, after the Roots defense, Derozen said she contacted the NAACP and is encouraging other parents to, as well. WHSV did not specify whether she contacted the national NAACP or a local chapter. 
In a statement on the city's district website, Staunton City Schools superintendent Linda Reviea said the matter would be handled "swiftly and fairly."
"If such behavior occurred, it is grossly inappropriate, insensitive and contradictory to the values of our school division and will not be tolerated," the statement reads. "At all times we expect our teachers and staff to be positive role models and demonstrate sound judgment.
"I want to emphasize that in no way does Staunton City Schools condone or encourage instruction that deliberately singles out a person or group because of race and subjects them to disparagement or humiliation."
The Staunton City Schools superintendent's office did not immediately reply to a request for comment.