How to play the 'Injustice 2' beta: Codes go out with more coming before the release date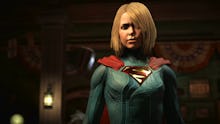 We get it: You can't wait to play Injustice 2, the DC Comics fighting game from the team behind Mortal Kombat. You've seen that an early beta is going on and you want a piece of that Damian Wayne pie. Here's how to sign up to get your hands on Injustice 2 before it comes out.
Injustice 2 beta: How to sign up and get a beta code
Unfortunately, unless you're a master hacker, you won't just cheat your way into the Injustice 2 beta. You'll have to register on the game's official website. Studio head Ed Boon tweeted that the "first wave" of beta codes went out on Tuesday, implying that more will come later. 
That's the good news. The bad news is that if you registered before this week and didn't get a code, you'll have to wait. Boon has some helpful advice for you if that's the case: Refresh the page over and over.
More fighting game news and updates
While you try to get into the Injustice 2 beta, read more fighting game news on Mic. Find out more about Super Smash Bros. for Switch, the Injustice 2 roster, the Tekken 7 console release date, what to expect from Marvel vs. Capcom: Infinite and the Evo 2017 lineup.