The most magnificent recipes on the internet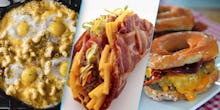 Did cooking even exist before the internet? It's hard to say, really. That now archaic document, Julia Child's Mastering The Art of French Cooking is a masterpiece of its time, but just imagine if Child had a food blog. Seriously. Imagine it. 
The internet has created some vulgar food horrors and inspiring food masterpieces, all for our cooking pleasure. Thanks to our beloved era of mash-up creations, food porn and recipes created for what we can only assume are clicks (and clicks are not delicious), the web has birthed an unstoppable movement to create the most trending, viral and shareable recipe, that only the brave will actually construct in the kitchen. We've found some of these amazing recipes, and wanted to share. Thanks, internet. 
Bacon-wrapped spatchcocked turkey 
This turkey only takes 80 minutes to make, allegedly, and it's sure to be the greatest hour and 20 minutes of your life. Until you eat it, of course. Get the recipe here. 
EBM: Eggs, bacon, mac and cheese
So yes, this is a stroke of cheesy genius, a breakfast skillet that's just as much gooey macaroni and cheese as it is an acceptable morning meal. #FEEDME. Get the recipe here. 
Butternut squash and gorgonzola rigatoni pie with fried sage
Sure, we've all seen the similarly impressive yet standard meat sauce filled pasta pie, but this rigatoni pie takes a gourmet turn that, thanks to the Internet, you an ogle over and recreate for eternity. Get the recipe here. 
Pizza shot glasses
Yes, these are mini pizza cups you can drink beer or other liquids out of. Good luck. Get the recipe here. 
Bloody Mary popsicles
This bloody brilliant rendition of the classic brunch cocktail ensures that a drink is waiting in your freezer whenever you wake up with a hangover. Get the recipe here. 
Hummus dumplings
The internet's favorite dip combined with the internet's favorite finger food? Yes, please. Get the recipe here. 
The falafel waffle
It's falafel, but as a waffle. You don't need us to tell you this creation is equal parts adorable and delicious. Get the recipe here. 
Pepperoni pizza wontons
Can't decide between pizza or Chinese food? Make both in one, in less time than it would take you to make that difficult decision. Get the recipe here. 
Chocolate chip cookie dough peanut butter
The two best things you can eat with a spoon, combined! Get the recipe here. 
Double-decker mac-and-cheese-stuffed bacon weave taco
If you can say all these words together, fast, 10 times, you can certainly master this obscenely creative and indulgent recipe. Get the recipe here. 
Bacon cheeseburger egg rolls with Sriracha diced tomatoes 
All you ever wanted, all you ever needed, is rolled up into this finger food. Get the recipe here. 
Savory basil pesto hummus donut
Leave it to the good old world wide web to turn a doughnut savory. And infuse it with not one but two condiments! Get the recipe here. 
Donut bacon cheeseburger
A glazed Krispy Kreme gets a savory, gooey makeover with this decadent sandwich recipe that amps up a purchased pastry like no other. Get the recipe here. 
Carrot taco shells
At the other end of the internet spectrum: health. We can thank some serious nutrition-minded bloggers for replacing the good in every dish with healthier, less satisfying substitutes, but these carrot taco shells may actually be an improvement on the traditional tortilla. Get the recipe here. 
5-minute snow ice cream
If the weather outside is frightful, scoop it up into something delightful. While only some regions of the world will be able to use authentic snow, shaved ice works just fine here. Sprinkles are probably, definitely a must. Get the recipe here.