Migos' 'Culture' is here: Download and streaming options, album tracklist and more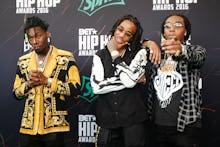 From creating the pop-culture dance craze "the dab" to having the No. 1 song in the country, Migos is ready to claim a bigger stake in the hip-hop movement with its latest album, Culture. 
Where to stream
The new album was released Friday. You can download Culture here and stream here.
There could not be a more perfect time for the Atlanta trap trio to drop its sophomore release. In early January at the Golden Globes, Donald Glover gave a shoutout to the group's single "Bad and Boujee," which he called the "best song ever." The moment catapulted Migos to the top spot on the Billboard Hot 100, giving the trio a new level of exposure.
Influencers
Before the Atlanta actor and creator plugged Migos into a wider audience, the influential group already had a number of hip-hop hits under its designer belt.
"The new album title is about the culture of hip-hop music. It's time to let the culture be known," Migos member Offset explained to The Fader. "It's time to claim it. And it's time to claim that we are the Migos, and for people to understand that this is what we did. We did a lot for music. Migos is the culture. Seriously. There are artists that are way bigger than us that get recognition off our flow."
Offset, Quavo and Takeoff are a family affair — Takeoff is Quavo's nephew; Offset and Quavo are cousins — and had their start releasing consistent mixtapes. Back in 2013, Drake — another rapper who was a fan of their music — released a remix to their bubbling record about expensive taste called "Versace." This moment put Migos on the map in mainstream hip-hop. 
In the months leading up to its debut album Yung Rich Nation, the trio faced some run-ins with the law that stifled promotions surrounding the record. But this time around, the group has remained focused on its craft and is reaping the rewards of its work ethic.
Collaborators
Culture, a 13-track album, is exclusively a hip-hop show with guest features from DJ Khaled, Travis Scott, Lil Uzi Vert, Gucci Mane and 2 Chainz. Confirmed production credits so far include Metro Boomin, the maker of the "Bad and Boujee" beat, as well as producers Cardo and Purps.
Tracklist
You can check out the Culture tracklist below, via Genius:
1. Culture ft. DJ Khaled