'13 Reasons Why': 6 things to know about Selena Gomez's new Netflix series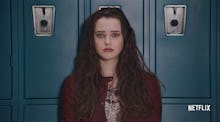 While romance rumors between her and the Weeknd continue to set the internet ablaze, Selena Gomez is busy setting her eyes on Netflix. 
Gomez has attached her name to the highly anticipated Netflix original series 13 Reasons Why. The series is based on the critically acclaimed and best-selling young adult novel Thirteen Reasons Why by Jay Asher. The series is set to drop March 31 on the streaming service. 
To get yourself ready for the mysterious teen drama, here's all you need to know about the upcoming series. 
What's it about?
The plot follows a group of teenagers who are reeling from the suicide of their friend and classmate. They attempt to figure out why she killed herself with the clues left behind. 
Clay Jensen returns home one day from school. He finds a box with his name on it on his porch and inside there are tapes. On the tapes are recordings from his friend and secret crush, Hannah Baker, who committed suicide just a few weeks prior. 
What are on the tapes?
The show seems to be a mix of a serious dramatic storyline with the allure and mystery of Veronica Mars and Pretty Little Liars. On the tapes, Hannah explains why she killed herself in 13 reasons. She leaves clues for her friends and classmates to figure out the reason(s) why. 
Is Selena Gomez in the show?
The answer to that is no. But Selena Gomez is an executive producer on the Netflix series. Gomez shared the trailer on her Instagram account on Wednesday and captioned the teaser as a passion project of hers: 
How did this project come about?
In another Instagram post shared on Thursday, the singer and actress revealed how nervous she was to discuss the show with the streaming service. "My mom found this book in 2009 and worked her ass off to make it with me, guide me and tell this story authentically," she captioned the selfie:
Who is in the cast?
While Gomez isn't appearing on the show, the cast is filled with up-and-coming young actors. Dylan Minnette, Katherine Langford, Brandon Flynn, Christian Navarro, Alisha Boe, Justin Prentice and Devin Druid star in the series. 
When does the series premiere?
13 Reasons Why will arrive on Netflix on March 31. To go along with the 13 tapes Hannah leaves behind and the title of the show, the series consists of 13 episodes, which you can binge when it's released. 
Mic has ongoing Netflix coverage. Please follow our main Netflix hub.