'Avengers Reassemble' Release Date News: Square Enix and Marvel partner on multigame deal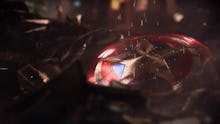 When both Square Enix's and Marvel's Twitter accounts teased impending news yesterday, we figured there would be some superhero goodness coming to the next Kingdom Hearts game. After all, Kingdom Hearts is a mix of Final Fantasy and Disney, and Disney owns Marvel. It only made sense.
We couldn't have been more wrong. Instead, we're getting a brand-new series of games under the title Avengers Reassemble.  
Avengers Reassemble trailer: Square Enix and Marvel team up
Let's cut to the chase and watch the trailer.
If you aren't allowed to wear headphones at work, here's how it goes: We hear an unknown woman talk about how the world desperately needs heroes amid shots of abandoned superhero implements like Thor's Hammer and Captain America's shield. This mysterious voice assures us there's still hope as long as the Avengers "reassemble," which is also the marketing hashtag attached to the game.
The game doesn't have a title yet, but it's positioned as the lead-off to a multigame deal between Square Enix and Marvel. While you might associate Square Enix with Japanese RPGs like Final Fantasy, the company has a deep bench of quality Western developers. This game is being developed by Crystal Dynamics and Eidos Montreal, the two studios primarily responsible for the two recent Tomb Raider games. 
It remains to be seen what, if any, attachment this game has to the byzantine cinematic universe Marvel is currently working with. This is speculation on our part, but like the upcoming Spider-Man game from Insomniac, it would make sense for it to exist outside of the MCU. That would offer more creative freedom for Square Enix.
We have no idea how long it will be before we find out what kind of game this is or when it's coming out, but keeping checking Mic for updates as we learn more.
More gaming news and update
To find out what else is happening in the world of gaming, check out our coverage of Super Mario Run's Android release, Robin in Injustice 2, the Evo 2017 lineup and the newest League of Legends patch.