Big Sean raised $100,000 for the Flint water crisis because the fight is far from over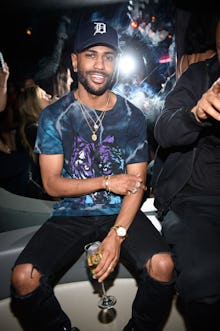 Though Big Sean is living out in Los Angeles these days, out there with the rest of the rappers who've made it, it's clear he hasn't forgotten where he came from. During a Tuesday night Daily Show appearance, the rapper revealed that through his Sean Anderson Foundation, he has raised about $100,000 for the people of Flint, Michigan, a town just 70 miles from his native Detroit.
In spite of the fact that the Republican-controlled House shuttered their investigation in December, Sean feels there's far more work to be done in restoring this community to full health.
"I just know it's not even close to being over," Sean told Daily Show host Trevor Noah in an interview centered around his upcoming album I Decided. "In that situation, I feel like, it wasn't a natural disaster. It's something that should've been prevented and could've been prevented. So it's just disgusting to think about the damages that these families and even kids have to go through with the lead poisoning."
Sean started raising money earlier this month through Crowd Rise, offering fan experiences like VIP tickets with meet-and-greet opportunities to donors. 
"We know the needs of Flint children exposed to lead, particularly those most vulnerable — children ages 0-6 — are ongoing and long-term," Sean wrote on Crowd Rise's site. "You can be assured that your gift will be used for critical interventions today and well into the future."
The crisis is close to his heart. Sean explained to Noah that his mother had an experience with lead poisoning. But she was able to reverse its effects through "holistic care and homeopathic remedies." 
On Tuesday, the Department of Environmental Quality announced lead levels in Flint's water had fallen below the federal limit of 15 parts per billion. However, the EPA website still suggests "Flint residents should continue to use filtered or bottled water for drinking, cooking and brushing teeth."
In the Daily Show interview, Big Sean revealed other ways he's looking to support and uplift Flint's residents. He shared that his last song on the album, "Bigger Than Me," will feature the Flint Chosen Choir, a local chorus, saying he felt the need "to reach out and show support to that side, creatively."
"Once you hear you'll know why I wanted them to be on it," he said. Stay tuned for I Decided, dropping Feb. 3.