Atlanta Falcons Super Bowl Roster 2017: Player injuries and who could sit out the big game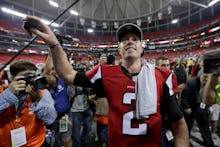 For just the second time in the team's history, the Atlanta Falcons are heading to the Super Bowl. The last time the Falcons played in the grandest game of them all was in 1999, when they were pounded by the Denver Broncos in what turned out to be John Elway's last game as a professional. 
In this year's Super Bowl, the Falcons will take on the New England Patriots, who will be playing in their seventh Super Bowl with quarterback Tom Brady. As Falcons quarterback Matt Ryan searches for his first Super Bowl win, Brady will be gunning for his record fifth.
There is reason to believe the Falcons can put up a fight, as they not only have this season's leading MVP candidate, Ryan, but they also have one of the most explosive offenses in the NFL.
Before the Super Bowl, which begins at 6:30 p.m. Eastern on Sunday, Feb. 5 on Fox, let's take a look at the Falcons' roster, and who may be sitting it out. 
Key offensive players
Matt Ryan, quarterback
The Falcons are led by Ryan, their stud quarterback. Ryan has had a solid career, but he elevated his play this season. He set personal bests of 4,944 passing yards, 38 touchdowns and seven interceptions. Furthermore, Ryan led the league with an astounding 117.1 passer rating. If the Falcons are to win their first Super Bowl, it will likely have everything to do with Matty Ice's performance.
Devonta Freeman, running back
In his third year with the Falcons, Devonta Freeman once again led the charge from the backfield. He improved upon last season's rushing numbers, running the ball for 1,079 yards on much fewer carries. Freeman continued to be dangerous in the passing game, as well, with 462 receiving yards. Freeman scored 13 touchdowns in the regular season. 
Julio Jones, wide receiver 
Julio Jones needs no introduction. He is arguably the greatest receiver in the NFL, dominating almost every game with his hands, feet and physicality. While he did not replicate his ridiculous numbers from last season, Jones still caught 83 passes for 1,409 yards and six touchdowns. Jones' receiving yards were second in the league behind the Colts' T.Y. Hilton. 
Tevin Coleman, running back
Despite not being a starting running back, Tevin Coleman put up solid numbers in his sophomore season. Acting in relief of Freeman, Coleman amassed nearly 1,000 yards, giving the Falcons arguably the best group of receiving running backs in the league. Look for Coleman, who scored 11 touchdowns in the regular season, to get plenty of work against the Patriots.
Offensive line
The players responsible for giving Ryan all that time to throw the ball are the offensive linemen. The line includes Jake Matthews at left tackle, Andy Levitre at left guard, Alex Mack under center, Chris Chester at right guard and Ryan Schraeder at right tackle.
Offensive injuries
Mack and Jones are the two offensive names on the Falcons' injury report. Jones did not practice Wednesday due to a lingering toe injury. Still, short of aggravating the toe further, you better believe Jones will play in the Super Bowl. The Falcons' starting tight end, Jacob Tamme, is on injured reserve and will miss the game.
Key defensive players
Defensive line
The Falcons' defensive line will have their work cut out for them as they try and get to Patriots quarterback Tom Brady. The line consists of defensive ends Brooks Reed and Tyson Jackson and defensive tackles Jonathan Babineaux and Grady Jarrett. Dwight Freeney, who has 122.5 sacks in his career, should get a few chances in relief to knock down Brady.
Linebackers
The Falcons' linebacking corps is made up of Deion Jones, Vic Beasley Jr. and De'Vondre Campbell. Beasley recorded 15.5 sacks this season and was named to the 2017 Pro Bowl.
Defensive backs
Assuming the Patriots' offensive line will do their job and protect Brady, it is the Falcons' defensive backs who will have to prevent wide receiver Julian Edelman from getting open. The Falcons' playmakers in the secondary include cornerbacks Robert Alford and Jalen Collins and Ricardo Allen and Keanu Neal at safety. 
Key defensive injuries
The only defensive player listed on the Falcons' injury report is Freeney, who missed Wednesday's practice for non-injury-related reasons. 
Special teams
Matt Bryant, kicker
Matt Bryant converted 34 of 37 field goals this season. The 41-year-old ageless kicker has been superb all season, and should the game come down to a field goal, there is nobody else Atlanta would want kicking the ball. 
Mic has ongoing coverage of the Super Bowl. Please follow our main Super Bowl hub here.