Nicki Minaj raps on Major Lazer's "Run Up," hints fourth album is coming very soon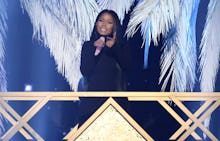 After breaking up with Meek Mill earlier this month, Nicki Minaj is ready to run up on the music scene once again and followup her 2014 album, The Pinkprint. 
Minaj is featured on the new Major Lazer song "Run Up" — alongside PartyNextDoor — and the rapper drops a major hint regarding her new album. She sounds the alarm when she spits the line, "Bout to drop an album, this is my fourth." 
Minaj does it all on the feature: She raps, sings and then raps again. Minaj's verse is a big chunk of the song, while PartyNextDoor takes care of the rest on top of a very on-trend tropical beat of the sort we've come to expect from Major Lazer.
What's that now? Should we be on call? It looks like she's getting everyone prepared for a major album drop. While there is no date, title or really anything at all yet, this is the first news about when we can expect an album. 
We're ready when you are, Nicki.