'Pokémon Go' PokéBank Update Release Date: Rumors fly, but it probably won't happen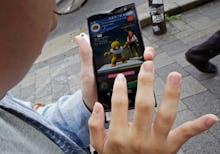 Pokémon Go players would love for their game to somehow hook into the Pokémon "main games" on Nintendo handheld consoles. Now it looks like that just might be happening thanks to a possible update to the Pokémon Bank cloud service — often referred to colloquially as the PokéBank.
Unfortunately for these hopeful players, we still have zero hard evidence to suggest that Pokémon Go will ever work into Pokémon Bank, the popular service that allows Pokémon players to transfer Pokémon across the "main" Pokémon games. The PokéBank just added support for Sun and Moon, but there's still no proof that Pokémon Go will ever get support from the service.
Pokémon Go PokéBank Update: Players search for evidence of access to Pokémon Bank
Pokémon Go players only have a few things to point at in regard to whether or not the Pokémon Bank will be incorporated into the mobile app Pokémon Go. Hopes about access to the Pokémon Bank currently lie on technical explanations, mysterious icons and a Wired UK interview from November 2016 in which Mike Quigley, chief marketing officer for Niantic, had nothing specific to say about integrating Pokémon Go with any other game.
"There's nothing specific to speak to on that yet," he said, "but what I would say is Masuda-san from Game Freak and Mr. Ishihara and our CEO John Hanke have mentioned that could be an area for us to explore down the road."
News about Pokémon Go integrating with Pokémon Bank is unlikely to arrive until shortly before the connection is ready to go live. This is the sort of thing Niantic is going to make a lot of noise about, but we probably won't hear anything official until right before it happens.
Pokémon Go players, if they are even slightly hooked into communities online like the Silph Road, will not be able to miss the news if and when a connection between Pokémon Bank and Pokémon Go becomes a reality.
More Pokémon Go guides, tips, tricks and updates
Check out Mic's Pokémon Go tips and tricks. Here are guides on how to get stardust, how to determine how long it will take you to reach level 40, the kind of Pokémon you get from 10km eggs, how to create new PokéStops, how to maximize your chances of catching Pokémon and how PokéStops distribute Pokémon eggs. Also check out how to catch Gen 2 baby Pokémon, our analysis of post-balance update Chansey and Rhydon and everything you need to know about finding the long-awaited Pokémon Ditto.