Fast-food workers file 33 complaints against companies run by Trump's labor secretary pick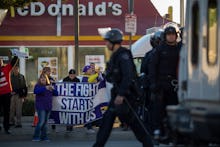 President Donald Trump's pick for labor secretary once said he prefers robots to employees because robots never file an "age, sex or race discrimination case." Unfortunately for Andrew Puzder, his CKE Restaurants Holdings employees are human beings.
Just one week before Puzder's Senate hearing, cooks and cashiers from Puzder's restaurants, which includes Carl's Jr. and Hardee's, are teaming up with the Fight for $15 campaign to file a tidal wave of 33 complaints against the California-based company for labor abuses and workplace neglect. 
The complaints — among them wage theft allegations for state labor departments and sexual harassment allegations with the U.S. Equal Employment Opportunity Commission — span multiple halls of government. Employees allege they were sexual harassed, paid sub-minimum wage or sometimes not paid at all. All 33 complaints were filed in the past 24 hours.
In one case, a Hardee's worker from Florida said she fought off sexual advances from a manager who, when rebuffed, told her, "If you don't start giving me what I want, I'm going to have to start taking it from you." 
The employee said she complained, but was simply moved to another shift where she had trouble balancing her schedule.
One of the complaints alleges CKE Restaurants Holdings surveilled and intimidated employees to prevent them from speaking out to the media, sending out memos that said "the press is not your friend."
"These complaints, on top of Puzder's long history of opposition to basic workers protections should disqualify him for consideration for United States Secretary of Labor," Kendall Fells, organizing director of Fight for $15, said Thursday during a conference call.
With a history of labor violations and complaints of abuse, it's unclear how Puzder can be expected to uphold the country's labor laws, or why he was chosen in the first place as the government's top defender of workers' rights. 
His $1.3 million in contributions to Republican officials, including Trump, might offer a clue.
CKE Restaurants Holdings did not immediately respond to a request for comment.