'Riverdale' CW TV Show: 5 things to know about the comic series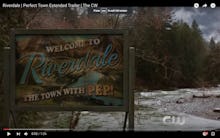 This isn't your grandparents' Riverdale. Archie, the popular comic chronicling the lives of a wholesome gang in the town of Riverdale has been adapted into a live-action TV show premiering on the CW on Jan. 26 at 9 p.m. Eastern.
The once-wholesome story, which often featured burgers and milkshakes at the local diner, has been adapted into a tense drama involving teenage angst and a mysterious death that unearths small-town secrets and scandals. 
Archie's all grown up 
The comic first premiered in 1941, and Riverdale, which stars K.J. Apa as Archie Andrews, Camila Mendes as Veronica Lodge, Lili Reinhart as Betty Cooper, Casey Cott as Kevin Keller and Cole Sprouse as Jughead Jones, is decidedly modern. The team behind the show, which includes executive producers Roberto Aguirre-Sacasa and Greg Berlanti, has taken the gang a long way from the Sugar Shop where they used to pass the time. Betty, who wants to finally tell Archie how she feels about him, is struggling with depression, and Veronica, the beautiful new girl and daughter of a disgraced businessman, are just two examples of the new and much more adult conflicts the teens are facing — which also includes a student-teacher affair. 
Teen drama meets murder mystery 
Riverdale pays homage to Twin Peaks with its opening sequence, which shows a crime taking place in the woods. The series opens with the death of a local teenager, Jason Blossom, who is assumed to have drowned on the Fourth of July. His twin sister, Cheryl — played by Madelaine Petsch — survived the incident and is a suspect of this murder mystery. The investigation into the alleged crime reveals the dark secrets that lie behind behind the idyllic exterior of the town. 
Betty and Veronica are more than romantic rivals.
Apa's Archie is much more good-looking than his comic-book counterpart, and along with the usual high school struggles of homework, football and dating, he is determined to pursue a career in music. But it's Mendes and Reinhart's Veronica and Betty who really go beyond their character's respective comic-book narratives and become friends who work together to educate football players about slut shaming. 
Josie and the Pussycats are there.
Ashleigh Murray plays Josie McCoy, Asha Bromfield plays Melody Valentine and Hayley Law plays Valerie Brown — and they look fierce.
Their parents seem familiar.
Luke Perry, who starred in 90210, another teen drama, plays Archie's dad, while Molly Ringwald, the queen of 1980s teen-angst movies, plays his mom.  
Mic has ongoing TV coverage. Please follow our main TV hub here.