New footage shows Fort Worth cop arresting mother who called police to protect her son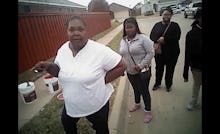 Disturbing new body camera footage shows what really happened during an alleged case of police brutality in Texas.
News surfaced in December that a mother had called police to her neighborhood to report that her 7-year-old son had been choked by a white neighbor — only to wind up in the back of the squad car herself.
On Thursday, the Root released damning body camera footage showing Fort Worth Officer William Martin violently arresting Jacqueline Craig and her two daughters after refusing to take her allegations of assault seriously.
While video of the incident was also captured on Facebook Live, the newly released body cam footage shows more, including Martin violently kicking Craig's 15-year-old daughter.
In both videos, Craig can be heard explaining her neighbor's version of the events: that her son had littered "some paper" and that the neighbor had told him to pick it up before choking him.
"Why don't you teach your son not to litter?" Martin responds.
"He can't prove to me that my son littered, but it doesn't matter if he did or didn't," Craig responds. "It doesn't give him the right to put his hands on him."
Martin's reply: "Why not?" 
In a video posted to Facebook, the family's lawyers, Lee Merritt and Jasmine Crockett, allege that in addition to the body cam footage, they have also obtained leaked police documents that outline Martin's history of using excessive force, as well as a confession from the neighbor saying that he had in fact grabbed the 7-year-old by the neck.
According to the Dallas News, Martin recently returned to work following a 10-day suspension.
Craig and her daughters face charges of interference with public duty, resisting arrest, disorderly conduct and failing to provide identification; Craig has requested that all charges be dropped.